Digital Realty's Interxion has signed a energy supply contract to procure renewable energy from Acciona Energia.
The 10-year contract is for around 65GWh per year, to cover the electricity consumption of the three data centers that the company currently operates in Spain and a fourth in development.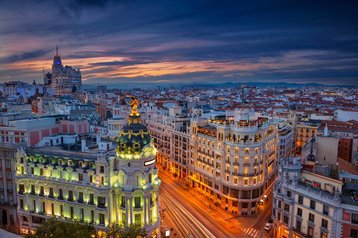 Acciona said the long-term contract will allow Interxion to guarantee an electricity supply at a competitive price while avoiding the volatility linked to electricity prices in the market. It didn't specify which energy sources would be used in the deal.
The company currently operates three data centers in Spain, all in the capital city Madrid. A fourth facility is also in development in the city that will offer 35,000 sqm (376,700 sq ft) of colo space and 34MW of capacity.
It is also developing its first facility in the city of Barcelona. Located in the northeast of Barcelona in the municipality of Sant Adrià de Besòs, the land parcel has the capacity to house 15MW of total installed IT power. Construction of the first facility, known as BCN1, is expected to commence in 2022 with completion anticipated in 2024.
A subsidiary of Spanish conglomerate Acciona, Acciona Energia has more than 11 renewable gigawatts (GW) in operation; the majority of these projects are wind-based, with just over half of its generation capacity located in Spain. The energy company has previously signed a PPA with Portuguese telco Oni as well as Telefónica.
A recent report from LevelTen Energy said that solar and wind PPA prices in Europe and the US are increasing, driven by supply chain issues, inflation, and the war in Ukraine. Bloomberg notes new PPAs in Europe are lagging this year as a result.
Digital Realty has committed to reducing its Scope 1 and 2 emissions (direct and indirect emissions) by 68 percent and Scope 3 emissions (indirect emissions in its value chain) by 24 percent by 2030. Last year Digital Realty announced it was sponsoring a new afforestation project in Palencia, Spain. This year saw the company sign 158MW worth of solar PPAs in California and Georgia with Terra-Gen and Georgia Power. In 2020 it signed a 105MW solar PPA in Texas with Pattern Energy.
Digital Realty announced plans earlier this year to retire the Interxion brand.