Power Purchase Agreement (PPA) prices have increased massively in Europe over the last year.
A new report from renewable energy purchasing platform LevelTen Energy said that solar and wind PPA prices in Europe increased 16 percent in the second quarter of 2022 to €66,07 per Mwh. Year-over-year, prices have increased 47 percent.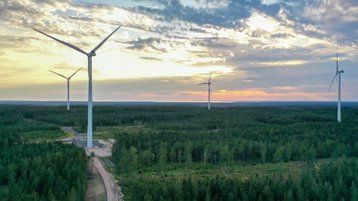 The company previously said a combination of supply chain, interconnection, and regulatory challenges, coupled with inflation and the ongoing war in Ukraine, have contributed to increased costs.
"In the simplest terms, PPA prices have been rising for one year because supply cannot keep up with demand," said Flemming Sørensen, VP of Europe at LevelTen Energy. "There isn't a clear end in sight to this supply and demand imbalance because its underlying causes will take months or years to resolve. Developers continue to struggle to build new solar and wind projects, which are sorely needed, due to tough permitting and interconnection challenges and the rising cost of inputs and labor. Furthermore, developers now have more options to market and finance their existing projects outside of corporate PPAs, which also limits available supply."
In the US, PPA prices rose just over five percent in Q2 to $41.92 per MWh, but were up nearly 30 percent year-on-year.
"It's unclear when prices will stabilize or decline because demand for PPAs continues to grow faster than supply. Supply won't catch up until the roadblocks that renewable developers are facing are lifted, and that could take months or years. Potential solar tariffs and very real inflation are the latest obstacles making it harder and more expensive to build new projects and put PPAs out on the market," said Gia Clark, senior director of Developer Services at LevelTen Energy.
Despite the price rise, the company said PPAs should remain an attractive proposition.
"Greenwashing is a big concern for many offtakers who are focused on hitting their renewable energy goals. PPAs provide the highest amount of benefit to the environment because they drive more renewable generation capacity. Corporations and other offtakers that enter into PPAs get to tell a powerful impact story," said Sørensen.
The likes of Amazon, Microsoft, Google, and Meta are all large buyers of PPAs as they seek to power their data centers with renewable energy.