Digital 9 Infrastructure (D9) has raised another £95.2 million ($127.4m) to fund its infrastructure acquisition spree.
The Triple Point-managed fund raised the money via the Placing of new Ordinary Shares, and will use the money to acquire further targets.
Since it's IPO last year and including today's funding, D9 has raised total equity of £845 million ($1.13 bilion). It has acquired a subsea cable and operator, data center & cable landing station, and data center operator in Iceland.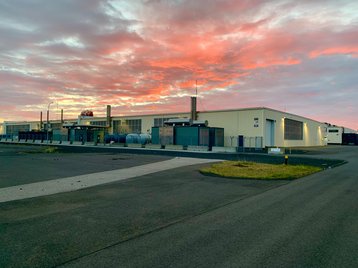 "The company continues to make significant progress in building a diversified portfolio of digital infrastructure assets with sustainability at their core, whether the environmental credentials of the Verne Global data center platform or the increase in connectivity provided by Aqua Comms and the new EMIC-1 subsea cable," said Jack Waters, chair of Digital 9 Infrastructure plc. "We very much appreciate the continued support of our shareholders and new investors, particularly in the current volatile market, and look forward to reporting on the deployment of these funds, together with our anticipated debt funding, in due course."
Triple Point raised £300 million ($408m) from a March 2021 IPO through D9, which acquired submarine cable owner Aqua Comms for £160m ($215m) and its upcoming EMIC-1 cable shortly afterwards. In June, it raised another £175 million ($246.7m) and subsequently acquired Verne for £231 million ($320m) before buying a Stellium data center and cable landing station in northern England for £15m ($19.8m).
Earlier this month D9 acquired a controlling stake in Ireland's public safety communications network, paying €76 million ($84.8m) for a 56 percent stake in Tetra Ireland Communications, and has the option to increase its holding to 100 percent for a further €60m ($66.9m).
For this week's raise, the company said 88,148,880 new Ordinary Shares will be issued at 108.0p per share, raising gross proceeds of £95.2 million.
The company didn't disclose its current acquisition targets, but has previously said is looking to acquire a number of data centers in the US, UK, and northern Europe, as well as UK terrestrial fiber platforms, a UK wireless infrastructure business reported to be small-cell provider Ontix, and make further investments in subsea fiber.
D9 is one of a number of infrastructure funds that were listed on the London Stock Exchange last year. In January 2021 Cordiant Capital raised £370 million ($511m) through the IPO of a new infrastructure firm, called Cordiant Digital Infrastructure, before acquiring Ceské Radiokomunikace (CRA) from funds of Macquarie in the Czech Republic as well as an undisclosed long-haul fiber-optic network based in Norway. It recently acquired US data center firm DataGryd and Polish digital infrastructure company Emitel for a combined $551 million.
October 2021 saw Pantheon announce plans to list an infrastructure subsidiary on the London Stock Exchange and raise around £300 million to invest in infrastructure including data centers, with Alinda Capital Partners following suit with similar plans shortly afterward.