Real estate investment firm BlackChamber Group is planning to build a 1.7 million-square-foot (157,900 sqm) data center campus in Arcola, in Virginia's Loudoun County.
BizJournal reports the company has filed with the county to develop four data center facilities on its 89 acres on Belmont Ridge Road in Loudoun County.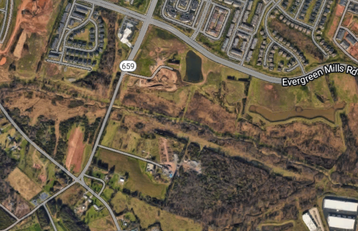 The land includes 23896 and 23844 Belmont Ridge Road, in addition to two adjoining parcels that don't have addresses. The project is called Tech Park at Brambleton.
In February, the Loudoun County board of supervisors unanimously approved the rezoning of 160 acres in Arcola for data center development.
Then, in March, BlackChamber spent nearly $97 million on some of the properties that were rezoned, including 23844 Belmont Ridge Road and two small lots surrounding it, and 23896 Belmont Ridge Road, according to county records.
The sellers included Soave Real Estate Group, Big South LLC, Trident Evergreen Mills LLC, and 659 Associates LLC, respectively.
BlackChamber declined to comment to the publication.
BlackChamber Group was founded in 2019. Dgtl Infra reports the company owns more than 300 acres of land in Loudoun and Prince William Counties, including in Arcola, Sterling, and Leesburg, as well as Gainesville. The company is reportedly building build-to-suit powered shells for hyperscalers.
The company is behind the John Marshall Commons Tech Park in Haymarket and the Village Place Technology Park in Gainesville, both in Prince William.
In Loudoun, the company is behind the Dulles 28 Technology Park in Sterling and the Tuscarora Crossing Landbay 3 in Leesburg; a 38-acre site on which it is planning three two-story buildings spanning a total of 701,400 sq ft (65,150 sqm). Its Dulles 2000 Redevelopment in Sterling was deferred last year.
BlackChamber executives previously worked at Corporate Office Properties Trust, Credit Suisse, and Facebook/Meta.
Microsoft, Google, and AREP's PowerHouse either have facilities in operation or development in Arcola.