Amazon Web Services (AWS) is expanding into Virginia's Louisa County.
The Louisa County Board of Supervisors this week announced that AWS is planning an $11 billion investment by 2040 to establish two data center campuses in Louisa's Technology Overlay District (TOD).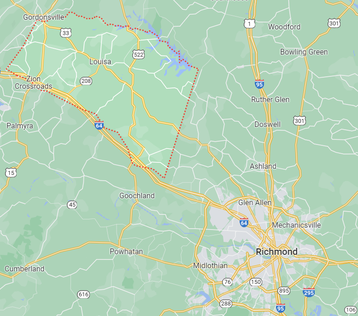 The county noted the development is part of the cloud company's planned $35 billion investment across the state announced earlier this year.
Details about the two campuses were not shared.
"This type of opportunity to create hundreds of high-quality jobs and significant investment in Louisa is why responsible economic growth is a priority for the county," said Louisa County Board Chairman Duane Adams. "We're proud to partner with AWS to expand their operations in a world with a growing demand for cloud computing infrastructure."
Louisa County is located in central Virginia, northwest of Richmond. The county is not known for its data center developments, though neighboring Richmond is home to developments from Meta, QTS, Flexential, EdgeConneX, and Lumen.
On its website, county officials claim "Louisa's capacity to accommodate large spaces and its proximity to urban centers make it a contender for a data center location."
"Rappahannock Electric Cooperative looks forward to welcoming AWS to Louisa County and sustainably providing the reliable energy and fiber communications services they need to power their advanced data center operations in our community," said John D. Hewa, president and CEO at Rappahannock Electric Cooperative. "We will be an active partner in this collaboration to propel our communities forward in the digital era."
Amazon already has a significant presence in Northern Virginia and continues to expand in the area. As well as continuing to expand in Loudoun and Fairfax Counties as well as Prince William, the company is making moves to establish data centers in Fauquier, Culpeper, King George, Spotsylvania, and Caroline Counties.
"We are proud to reinforce our long-term commitment to the Commonwealth with our plans to invest $11 billion in Louisa County by 2040," said Roger Wehner, director of economic development, AWS. "Virginia hosted our first data centers when we launched in 2006, and over the last decade, AWS invested more than $51.9 billion in the Commonwealth while supporting thousands of jobs. This new investment in Louisa County builds on our rich partnership with the state and we look forward to delivering and supporting programs that will benefit Louisa County residents."
Louisa's Technology Overlay District was established earlier this year. It aims to promote the development of technology centers in areas of the County where existing or proposed infrastructure could support them. The newly zoned areas cover six land parcels, offering hundreds of acres mostly located in the center of the county. It's unclear which of the parcels AWS is developing.