Amazon has been granted permission for a data center in Virginia's Fauquier County.
The Warrenton Town Council this week voted 4-3 to approve Amazon Data Services' request for a special-use permit to build a 220,000 square-foot (20,450 sqm) data center at the intersection of Blackwell Road and Lee Highway in Warrenton.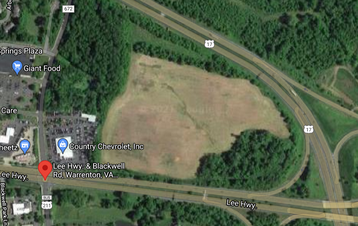 The company reportedly aims to invest around $550 million in the project.
As is becoming increasingly common, the meeting went on until the early hours of the next day, finishing around 3 am due to the number of residents wishing to voice their opinion on the project.
Oscar-winning actor Robert Duvall was amongst the more than 130 who spoke during the meeting; he and many others were against the development. Residents spoke out against potential impact around noise, property values, traffic, environmental concerns, and whether the project will require new transmission lines installed.
"We are deeply disappointed by the Warrenton Town Council's decision. Despite every possible effort ... the Town Council still voted 4-3 to approve the special use permit," opposition group the Piedmont Environmental Council said this week. "What comes next is not entirely clear, but we will continue to evaluate and prepare, along with our partners, Citizens for Fauquier County and Protect Fauquier."
While Northern Virginia is a major data center hub, Warrenton and Fauquier County are not traditionally where operators look to place facilities. However, AWS has a data center on the DoD's nearby Warrenton Training Center campus, built in 2016. OVHcloud has a facility in Vint Hill that launched in 2017.
Amazon revealed it wanted to buy the plot and build a data center in Warrenton in June of 2021, but only if the town was able to change zoning laws to allow for such buildings in the area. The company was said to be "very interested" in Warrenton.
AWS subsequently acquired the 41.7-acre plot of land in Fauquier County, for $40 million the following September, after the town did change its zoning laws to allow for data centers at the behest of the cloud giant.
As with a number of data center developments outside Virginia's traditional data center hub of Loudoun County, some local residents were sharply against the proposals.
Planning Officials last year voted to 'indefinitely delay' a public hearing on Amazon's application after it was judged the company's application was 'incomplete'.
After that issue was resolved, the Town Council last month decided to table the vote at the request of the company in order to review new preconditions put forward during the public hearing. At the same meeting, local residents had suggested the site instead be rezoned to residential to allow for a multi-family, mixed-use residential development.
There is also a lawsuit claiming town officials illegally suppressed or redacted information requested by the organization through the Freedom of Information Act (FOIA) regarding the Amazon data center proposal. During this week's meeting, a motion was passed to distribute the FOIA documents in question.
Another 'Texas-based data center developer' has reportedly signed agreements with landowners in the Fauquier County towns of Vint Hill and Catlett to develop campuses there.
At least two other Warrenton sites are being marketed as potential locations for data center developments in the town that could accommodate more than 1.3 million sq ft (120,000 sqm) of development across almost 60 acres.