Officials in Virginia's Fauquier County have 'indefinitely postponed' Amazon's proposals for a data center in Warrenton.
In June 2021, Amazon filed to build an approximately 220,000-square-foot (20,400 sqm), single-story data center in Warrenton at the intersection of Blackwell Road and Lee Highway.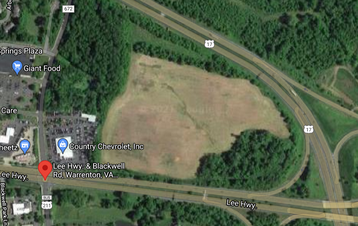 First reported by Fauquier Now, the Warrenton Planning Commission voted unanimously this week to indefinitely delay a public hearing on Amazon's application for a special-use permit to build a data center. After previously holding two sessions on the matter, the commission last week decided to extend the public hearing about the project due to a large amount of opposition from residents.
At the meeting this week, James Lawrence, the commission's vice chair, moved "to postpone indefinitely the review of [the special-use permit] until [the commission] gets more information" from Amazon about several aspects of the application, which he claimed was "incomplete."
The commission is reportedly still waiting for Amazon to submit a complete noise study and wants the company to update its application indicating how many trees will be removed since there will no longer be a substation built on the property.
"It would be a tragic rush to act on this matter," Lawrence said. "There's so much missing information. We as the Planning Commission have a job to do, and that job is not done."
FN reports Amazon's attorneys did not comment during the meeting or following the commissioner's vote.
Amazon revealed it wanted to buy the plot and build a data center in Warrenton in June of 2021, but only if the town was able to change zoning laws to allow for such buildings in the area. The company was said to be "very interested" in Warrenton.
AWS subsequently acquired the 41.7-acre plot of land in Fauquier County, for $40 million the following September, after the town did change its zoning laws to allow for data centers at the behest of the cloud giant.
While Northern Virginia is a major data center hub, Warrenton and Fauquier County are not traditionally where operators look to place facilities. However, AWS has a data center on the DoD's nearby Warrenton Training Center campus, built in 2016.