European cloud service provider OVH plans to invest invest $47 million in its first US data center and a North American headquarters, at the same time as announcing new financing for the whole firm. 
The Commonwealth of Virginia and developer Vint Hill Village will fund the installation of fiber optic cable to the Fauquier business park. Meanwhile, two finance firms have taken a minority stake in the company for €250 million. 
Common, wealth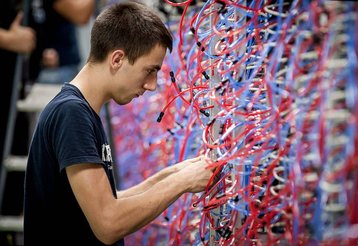 "OVH's decision to establish its North American headquarters in Virginia further solidifies the Commonwealth's global standing as the top player in the flourishing data center sector," Governor Terry McAuliffe said. "
Thanks to our critical IT infrastructure and skilled workforce, Fauquier County will be home to one of the most elite cloud providers around the globe. OVH is a tremendous addition to the nearly 600 data processing and hosting centers in the Commonwealth, and we are proud that the company is part of our ongoing success in building a new Virginia economy."
Secretary of Commerce and Trade, Todd Haymore, was equally optimistic: "This significant project is a win-win, as OVH will invest in infrastructure enhancements to the Vint Hill Business Park, opening access to the development of nearly 150 acres with increased fiber, sewer, water and electrical capacity.
"It is exciting to watch Virginia grow as a leader in the data center industry, which accounts for more than 7,600 jobs and $9 billion in capital investment since 2005."
The facility will create 54 jobs, at first, each paying an average of $58,333 per year, plus benefits.
OVH CEO Laurent Allard said that "Virginia was a natural choice for our first presence in" the US.
Fauquier County Board of Supervisors Chairman Christopher Granger explained one of the reasons the area was so attractive: "To support this important project, Fauquier County stepped up with a comprehensive package of tax, infrastructure and workforce development incentives."
OVH will receive a $1.25 million-grant from the Commonwealth's Opportunity Fund and be eligible for sales and use tax exemptions on equipment purchased. It get funding and services from the Virginia Jobs Investment Program.
Fauquier is also the location of a $200 million Amazon US Department of Defense data center, which received $2.7 million in tax exemptions over three years.
New investment
At the same time, OVH has announced new funding from investment firms KKR and TowerBrook Capital Partners, which have taken a minority stake in the company for €250 million of growth capital.
OVH was founded in 1999 by Octave Klaba, and now has a total of 250,000 servers in 17 data centres in France and Canada, serving a million customers, with a 2016 turnover of €320 million so far. 
The Klaba family will retain the majority stake in the company.