AtlasEdge Data Centers has acquired a data center in the city of Leeds, UK.
The Digital Realty, Liberty Global, and DigitalBridge-backed company this week announced it has acquired Cornelius House, the largest purpose-built data center in the Yorkshire city, from Hardy Fisher Services and/or Leeds Data Centre LLP.
Operational since 2008, Cornelius House is an 11,000 sq ft (1,020 sqm) data center with capacity for 400 racks. Originally a bank gold bullion store before being taken over for use a data center by Pipex Communications in 2001. Firstnet and Select Data Centres, which merged in 2017 and since renamed to Leeds Data Centre LLP, originally rebuilt the facility in 2007 and previously leased it to BT.
Hardy Fisher has reached out to DCD, saying AtlasEdge has acquired Cornelius House in Leeds from the Leeds Data Centre LLP with Hardy Fisher Services Ltd (HFS) continuing to operate and manage the site.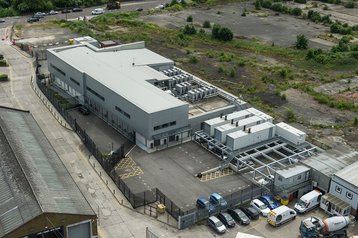 Atlas said it will develop the site into a regional aggregation hub, and noted there is opportunity to further expand the site in the future to meet customer growth.
"We are very pleased to have acquired this data center, adding an important location to our portfolio in the UK," said Giuliano Di Vitantonio, CEO, AtlasEdge. "The Leeds site is uniquely positioned to act as a regional aggregation hub and will ensure AtlasEdge's distributed and highly connected footprint can support the next wave of growth in digital infrastructure for the surrounding area."
"AtlasEdge is a very attractive buyer for us - their proposition is compelling and timely," added Jason Beresford, Founding Partner & Chief Executive, Sostratus Capital LLP, owner of Hardy Fisher Services. "It is fantastic for AtlasEdge to be investing in Leeds and, as the first international data-center player to do so, we believe they are ahead of the game. We are looking forward to further developing this relationship as both the market and demand continues to grow."
CBRE acted as agents for the acquisition on behalf of AtlasEdge.
The exact relationship between Hardy Fisher and FirstNet/Leeds DC is unclear: Atlas Edge said in a press release it acquired the site from Hardy Fisher Services, but HF representatives told DCD the company acquired the site from Leeds Data Centre LLP. According to Companies House, Firstnet renamed to Leeds Data Centre LLP in 2019.
HF has claimed the two companies are unrelated. However, David Cusworth of Hardy Fisher is also formerly a director of Firstnet, per Companies House. HF's site also makes references to Firstnet in its cookie policy, and according to Companies House seemingly took a controlling stake in Firstnet in 2019.
Last year telecoms company Liberty Global and digital infrastructure fund Digital Colony (now DigitalBridge) announced plans to launch AtlasEdge to operate more than 100 Edge data centers across Europe. The deal brought together DigitalBridge's Edge assets and Liberty Global's real estate portfolio, with several Liberty Global operating companies acting as anchor tenants; Virgin Media in the UK, Sunrise-UPC in Switzerland, and UPC in Poland. Digital Realty has also invested in the company.
In November 2021, Atlas acquired twelve data centers from Colt Data Centre Services (DCS). The portfolio included data centers in 11 tier one and tier two markets across Europe including Amsterdam, Barcelona, Berlin, Brussels, Copenhagen, Hamburg, London, Madrid, Milan, Paris, and Zurich; Colt Technology Services is an anchor tenant across multiple facilities.