Apple's latest smartphone range will provide emergency SOS via satellite, through Globalstar's satellite connectivity.
This means that the phone will be able to send emergency SOS alerts outside the reach of cellular networks from remote locations.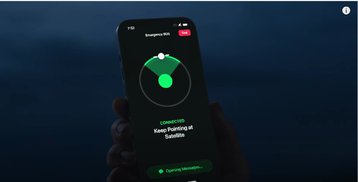 This service will be available to US and Canadian customers from November, with the service free for the first two years. There's no mention yet of the service launching in other markets.
Apple announced the new feature at its iPhone 14 launch yesterday from its Cupertino HQ, with Globalstar confirming its involvement through filings.
Globalstar specializes in making low-earth orbit satellites and worked with Elon Musk-owned SpaceX to help launch the Falcon 9 rocket in June.
Apple will pay for 95 percent of the approved spend for the satellites, with Globalstar to raise additional debt capital for the development and launch of new satellites. Apple is expected to launch the service during the fourth quarter of 2022
Earlier this year Globalstar paid $327 million to Canadian company Macdonald, Dettwiler, and Associates Corporation (MDA) for 17 new 500kg satellites for an 'unknown potential customer', which appears to be Apple.
Launched in 1991 as a joint venture of Loral Corporation and Qualcomm, Globalstar's satellites transmit customer signals via CDMA technology, picking up signals from the ground and relaying them back to where the signal needs to go. Globalstar's first-generation constellation consists of 48 LEO satellites, with an additional four satellites in orbit as spares, while its second-generation comprised 24 machines. The company operates 24 ground stations.
Satellite-connected smartphones a crowded space
Last month T-Mobile linked up with SpaceX to provide mobile signal connectivity from space, promising speeds of 2-4Mbps through Starlink satellites and eliminate dead zones.
Belgian communications firm BICS also signaled its intentions with expanding mobile coverage to remote areas, via satellite after penning a deal with satellite-direct-to-phone telecoms company Lynk. And earlier this year Lynk deployed its Lynk Tower 1 satellite into space, its first spacecraft covered by an FCC license to operate a satellite direct-to-phone service.
Meanwhile, AST SpaceMobile is also developing its own constellation of direct-to-mobile satellite communication satellites, and has agreements with Vodafone and AT&T.
Chinese vendor Huawei has also demonstrated its capabilities in this arena, with its new Mate 50 smartphone offering the ability to send texts via satellite communications.
Rugged smartphone company Bullitt Group also announced plans for a standard mobile that can connect to satellite networks, earlier this week, but didn't reveal its satellite partner.