Arm server CPU start-up Ampere has begun shipping its latest chip, the Ampere Altra processor.
The 80-core, 64-bit Altra has a thermal design point of up to 210W, and is aimed at both cloud and Edge customers.
Amped up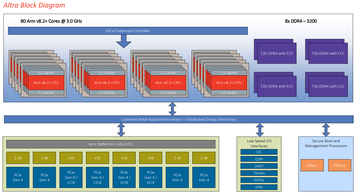 Among the first to try out the chip is Microsoft, which said it was sampling the Altra. "We are pleased to see the launch of the Ampere Altra cloud-optimized platform that helps bolster our hyperscale data center priorities around power efficiency, resiliency, telemetry and security," Dr. Leendert van Doorn, Azure distinguished engineer, said.
"Ampere's standards-based approach made it easy for us to bring up our software stack and we are actively evaluating their systems in our labs."
Oracle, which is an investor in Ampere, said that it is in the final phases of developing Ampere Altra-based platforms. "We look forward to deploying Ampere Altra in the Oracle Gen 2 Cloud," Edward Screven, chief corporate architect at Oracle, said.
Canonical, Kinvolk, Packet, Lenovo, Gigabyte and Micron were also listed as companies interested in working with Ampere.
The Altra comes after numerous companies have tried and failed to make Arm a success in the server space. Start-up Calxeda went bust, Qualcomm gave up, and AMD is too preoccupied with Epyc to pay much attention to its Opteron A1100.
Some have had limited success, like Applied Micro with X-Gene, and Cavium with its ThunderX product line. There have also been efforts to integrate Samsung's Exynos chip, originally designed for mobile devices, into miniature servers.
The tide may be turning, however. Amazon Web Services offers cloud access to its own Arm chips, while Cray will this year sell supercomputers packing the Fujitsu A64FX Arm processor.
"The Ampere Altra processor based on the Arm Neoverse N1 platform represents a significant breakthrough in performance and power efficiency for the hyperscale cloud and edge markets," Rene Haas, president, IP Products Group at Arm, said.
A 7nm chip, Altra is being manufactured by TSMC.