Amazon has pushed back the launch of two Kuiper prototype satellites due to delays in rocket development by its original launch partner.
In November 2021, Kuiper filed plans to launch two test satellites – KuiperSat-1 and KuiperSat-2 – on ABL Space Systems' RS1 rocket by Q4 2022. The two satellites will help the company test its phased array and parabolic antennas, power and propulsion systems, custom-designed modems, and receiver terminals.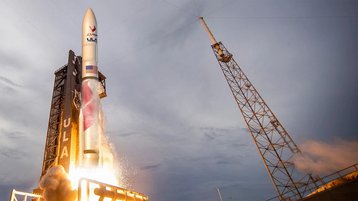 However, this month the company said the two satellites will be completed later this year and both deployed on the first flight of Boeing-Lockheed joint venture United Launch Alliance's (ULA) new Vulcan Centaur rocket in early 2023.
The reason for the switch in launch provider wasn't made clear, but reports suggest ABL's RS1 rocket is still in development and yet to launch.
"We couldn't be more excited to join the first launch of ULA's Vulcan Centaur. We've already secured 38 Kuiper launches on Vulcan, and using the same launch vehicle for our prototype mission gives us a chance to practice payload integration, processing, and mission management procedures ahead of those full-scale commercial launches," said Rajeev Badyal, vice president of technology for Project Kuiper. "Our prototype satellites will be ready this year, and we look forward to flying with ULA."
Plans for the company's Project Kuiper constellation were first revealed in 2019. The company originally aimed to invest $10 billion in developing and launching more than 3,200 satellites into orbit to provide broadband and backhaul services, but has since revised that number up to more than 7,770 satellites.
Amazon said ULA is scheduled to provide 47 launches for its satellite constellation. The Vulcan Centaur rocket will launch from Cape Canaveral Space Force Station in Florida, with the prototype satellites scheduled to share the ride with the Peregrine lunar lander, a NASA-funded spacecraft from Astrobotic. Amazon's first production satellites are scheduled to launch on ULA's Atlas V rocket.
The company had previously filed with the FCC for a two-year license for the machines and is planning to control the satellites from a ground station in McCulloch, Texas. Earth stations in South America and the Asia-Pacific region will also be used. The original launches were due to take place at Cape Canaveral Space Force Station in Florida. Both satellites were due to be actively deorbited after the mission in 2023; whether this launch delay means they will be in orbit longer is unclear.
In July 2021 Amazon acquired Facebook's satellite team. The following month Verizon announced it had partnered with Amazon to use the Kuiper constellation for backhaul once live.
Amazon said it has secured up to 92 launches with ULA, Arianespace, and Blue Origin to deploy its constellation, and noted that it also plans to retain two launches with ABL Space Systems on the delayed RS1 rocket.
ABL President Dan Piemont confirmed the plans to continue working with Amazon, telling CNBC that the company finished work on a custom Project Kuiper spacecraft adapter earlier this year.
Amazon and Telesat last month said they had finalized spectrum arrangements to keep their Ka-band satellites from interfering with each other.