Airbus, NTT, DOCOMO, and SKY Perfect JSAT are partnering to jointly study connectivity services from High-Altitude Platform Stations (HAPS).
HAPS – whether they be airships, balloons, or fixed-wing drones – offer a way to provide connectivity to rural and unconnected areas without the upfront costs of cell towers or satellites or the need for specialist receivers. Google/Alphabet's now-defunct high altitude balloon unit Project Loon was probably the most famous example, but a number of companies are looking to develop a successful platform in the space.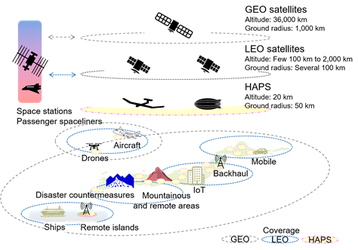 The European and Japanese companies have signed a memorandum of understanding (MoU) looking to explore HAPS-based connectivity services as part of a future space-based wireless connectivity ecosystem.
The study will attempt to identify the early deployment requirements of a HAPS-based network: the firms will test HAPS connectivity, identify practical applications, develop required technologies and ultimately launch space-based wireless broadband services (the companies have donned this network Space RAN (radio access networks)).
Defense firm Airbus is developing the Zephyr HAPS platform; a fixed-wing solar-powered, stratospheric unmanned aerial system (UAS). Telcos NTT, DOCOMO, and satellite firm SKY Perfect JSAT will provide the wireless communications network. The companies are looking to provide 'non-terrestrial network (NTN) technologies' using a combination of geostationary-orbit (GEO) satellites, low Earth-orbit (LEO) satellites, and HAPS.
Under the MoU, the four companies will discuss and identify possible future developments necessary to unlock future HAPS-based connectivity services, lobby for standardization and institutionalization of HAPS operations, and explore business models for commercializing HAPS services. Specific themes will include the applicability of HAPS for mobile connectivity on the ground and base station backhaul, the performance of various frequency bands in HAPS systems, the technological considerations for linking HAPS with satellites and ground base stations, and the establishment of a cooperative system to test a network combining NTN technology, satellites, and HAPS.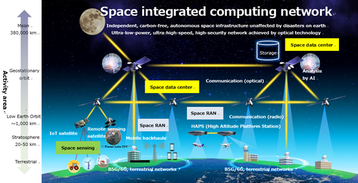 British defense contractor Qinetiq developed the Zephyr platform from 2003 and sold it to Airbus in 2013. In 2018, the Zephyr S flew from Arizona and remained aloft for 25 days 23h 57min. The platform has a wingspan of 25 meters (82 ft) and weighs 75 kilograms (165 lb). DOCOMO and Airbus conducted an 18-day Zephyr test in November 2021; the companies were able to demonstrate data transmissions at various speeds up to a distance of 140km. Airbus also has a distribution deal with OneWeb in Europe.
NTT and SKY Perfect JSAT have previously partnered for projects looking at developing "ICT infrastructures in outer space" and developing a "space integrated computing network:" i.e. space data centers connected via Space RAN. The companies planned to start commercial services around 2025.
Fellow Japanese telco SoftBank has made a large number of investments in the space in recent years. The company was an investor in Loon – and acquired some of the unit's patents in the wake of its closure – but also set up HAPSmobile in 2017 in conjunction with US military drone firm AeroVironment. It has also invested across a number of other sky-based companies; as well as HAPS, it has investments in both Low Earth Orbit LEO and Geosynchronous Earth Orbit (GEO) satellite firms and even aerostats (tethered blimps).
In June 2021, SoftBank launched its own Non-terrestrial Network (NTN) service to provide connectivity solutions from above.