Africa Data Centres has started construction on a new data center in Cape Town, South Africa.
The Cassava Technologies subsidiary this week broke ground on a second data center in Cape Town. The new facility will be in the north of the city and will have an IT load of 20MW. The facility will be up and running by mid-2024.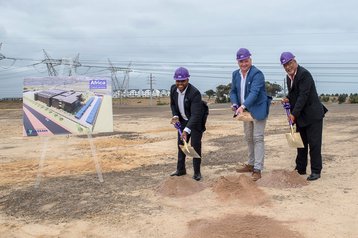 First announced in June 2022, the new 20MW facility will cover 12,000 square meters (129,150 sq ft). Work was originally set to start on site in the last quarter of 2022, with completion scheduled for the end of 2023.
ADC currently operates one facility in the Diep River area of Cape Town. The facility offers 2,700 sqm of IT space across three data halls. At full future build out, the site will offer 6,000 sqm and 25MW.
Tesh Durvasula, CEO of Africa Data Centres, said: "Cape Town is a thriving city and the second largest economy in South Africa. We built and operate the first hyperscale colocation data center in the city, which already houses a number of global providers alongside major South African enterprises and government, and this second facility will add capacity to the region, and redundancy too."
The company operates two other South African facilities in Johannesburg in the Samrand and Midrand areas of the city. It also has or is developing data centers in Nairobi, Kenya; Lagos, Nigeria; Accra, Ghana; and Lomé, Togo. This month has seen the company announce plans for its first data center in Kigali, Rwanda, and break ground on an expansion in Nairobi.
"This second data center facility in Cape Town increases the number of our data centers in South Africa to four and is part of our investment program to deliver an additional ten data centers in Africa," said Hardy Pemhiwa, Group President & CEO of Cassava Technologies. "I would like to acknowledge the Western Cape Provincial Government and the Western Cape Department of Economic Development who have been extremely supportive as we expand our data center facilities in Cape Town."