Pan-African data center operator Africa Data Centres (ADC) has broken ground on an additional data center facility in Nairobi, Kenya.
First announced in late 2022, the Cassava Technologies subsidiary this week announced the expansion project had begun. The new build will see the existing facility on the adjacent piece of land expanded up to an extra 15MW of IT load.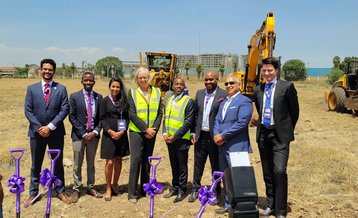 The first 5MW phase of the new facility will be completed in the first half of 2024 and will bring five times more capacity than is currently installed.
"Our decision to increase our investment in our data centers in Kenya is in recognition of the position the country now occupies as a leader in the adoption of digital technologies in Africa," said Hardy Pemhiwa, group president & CEO of Cassava Technologies.
Tesh Durvasula, CEO of Africa Data Centres, added: "The expansion will enable Africa Data Centre clients to grow and scale depending on their requirements. They can start small, increase to a medium capacity, and even benefit from a hyperscale type of deployment in a few years if they choose to."
Nairobi's East Africa Data Centre (EADC) was hailed as East Africa's largest data center when it was opened by Liquid Telecom (later renamed Liquid Intelligent Technologies and then subsumed into Cassava) in 2013. The facility offered 500 sqm (5,382 sq ft) of whitespace and room for 160 racks per floor across four stories; it was expanded to add another 500 sqm of white space in 2018. Liquid launched ADC in 2018.
Last year ADC announced plans for two more data centers in Nairobi, saying it had begun the development of a second data center of up to 20MW of IT load and was securing land for a third facility.
ADC has or is developing data centers in Nairobi, Kenya; Lagos, Nigeria; Accra, Ghana; Lomé, Togo; and the Samrand and Midrand areas of Johannesburg as well as the Diep River area of Cape Town, South Africa. Last week the company announced plans for its first data center in Kigali, Rwanda.
The groundbreaking ceremony was attended by UK High Commissioner to Kenya Jane Marriott and US ambassador to Kenya (and former HP CEO) Meg Whitman. Whitman said the US government was investing $30 million into the Nairobi facility.