The Meta-led 2Africa subsea cable has made landing at Port Said on Egypt's Mediterranean coast.
"2Africa ship ends its amazing journey in Egypt with its successful landing on the Mediterranean coast in Port Said," Ola Khaled, international business development senior manager at Telecom Egypt, said on LinkedIn this week.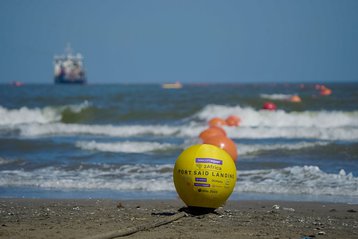 The 2Africa cable previously landed at Telecom Egypt's cable landing station (CLS) in Ras Ghareb on the eastern coast of Egypt on the Red Sea, in November 2022.
Though the Suez Canal is a major thoroughfare for subsea cables crossing between the Mediterranean and the Indian Ocean, this is only the second cable landing at Port Said – located at the northern mouth of the canal – following Telecom Egypt's Red2Med cable that launched last year.
However, the Africa-1, FEA, Medusa, India-Europe-Xpress (IEX), and SeaMeWe6 cables are all set to land at Port Said over the next two years.
2Africa close to completing East African trunk
Meta, along with Telecom Egypt, China Mobile International, MTN GlobalConnect, Orange, STC, Vodafone, and the West Indian Ocean Cable Company (WIOCC) announced the 2Africa cable back in 2020 that would circle the African continent.
At 45,000km, it is the world's largest subsea cable and will connect 33 countries with 46 landing points across Africa, Europe, and Asia when it is complete. Alcatel Submarine Networks (ASN) is responsible for manufacturing and deploying the 16-fiber pair, 180Tbps cable, which is due for completion in 2024.
In Europe, 2Africa's cable has previously landed in Barcelona at AFR-IX Telecom's new CLS as well as an Equinix facility in Genoa, Italy, and a Digital Realty facility in Marseille, France.
In Africa, The cable system has already landed at Djibouti City, Djibouti; and Berbera, Somalia. The cable made four landings in South Africa with Vodacom, WIOCC, and MTN in recent months. The cable has landed in Maputo, Mozambique into a Digital Realty-owned iColo facility in February; a second landing in Mozambique is expected further north in Nacala, likely in partnership with Vodacom's local unit. It has also landed in Mahajanga, Madagascar, and at the Comoros Islands.
The East African trunk, which is set to launch later this year, is still set to land in Sudan; Mogadishu, Somalia; and the Seychelles.
The 2Africa Pearls extension to the Middle East and India is set to land at Airtel's CLS in Mumbai, India. STC and its infrastructure subsidiary Center3 landed the 2Africa cable in Jeddah and Yanbu in Saudi Arabia earlier this year, with a third Saudi landing due in Duba.
The West African Trunk will run from South Africa north to the UK, with MTN's Yzerfontein CLS outside Cape Town the only landing point so far.