The Meta-led 2Africa subsea cable has landed at a Vodacom facility in South Africa.
The company this week announced that the 2Africa subsea cable has now landed at the Vodacom network facility in Gqeberha, South Africa.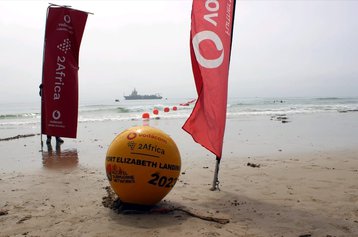 Part of Port Elizabeth on Algoa Bay in South Africa's Eastern Cape Province, this is the first submarine cable landing in the Eastern Cape region. The cable will be landing at an existing site in the Summerstrand area. There are cable landing stations (CLS) further north along the country's east coast in Umbogintwini and Mtunzini.
"This latest 2Africa cable landing affirms Vodacom's commitment to driving digital inclusion in Africa by increasing access to quality internet services and investing in the network infrastructure to support this goal," said Diego Gutierrez, Vodacom Group chief officer: international markets. "The subsea cable system enables more communities to access transformative online resources, from education and healthcare to jobs and financial services, and experience seamless connectivity's economic and social benefits."
Meta, along with Telecom Egypt, China Mobile International, MTN GlobalConnect, Orange, STC, Vodafone, and the West Indian Ocean Cable Company (WIOCC) announced the 2Africa cable back in 2020. At 45,000km, it is the world's largest subsea cable and is set to connect 33 locations at 46 locations across Africa, Europe, and Asia once it's complete. Alcatel Submarine Networks (ASN) is responsible for manufacturing and deploying the 180Tbps cable, due for completion in 2024.
The cable will have a number of landing points in South Africa. Last month MTN announced the 2Africa cable had made landing in two MTN South African cable landing stations in Yzerfontein and Duynefontein. Both locations are to the north of Cape Town on SA's western coast. It is also set to land further up the eastern coast near Durban in Mtunzini at an OADC/WIOCC facility.
2Africa's cable recently landed in Barcelona at AFR-IX Telecom's new CLS. It also recently landed at Ras Ghareb, Egypt in partnership with Telecom Egypt, which said another landing point is expected in Port Said in the Mediterranean Sea in the coming months. It has also previously landed in Genoa, Italy; and Djibouti City, Djibouti.
The cable's Middle East & Asia extension, known as 2Africa Pearls, is set to land at Airtel's CLS in Mumbai, India.