The 2Africa subsea cable system has landed in Ras Ghareb, Egypt.
Telecom Egypt and Meta, which are both part of the consortium that has spearheaded the 45,000km subsea cable, confirmed the landing at Ras Ghareb in the Red Sea.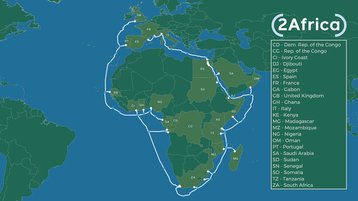 Telecom Egypt, along with several other companies including Meta, China Mobile International, MTN GlobalConnect, Orange, STC, Vodafone, and the West Indian Ocean Cable Company (WIOCC) announced the 2Africa cable back in 2020.
It's the world's largest subsea cable and will connect 33 locations at 46 locations across Africa, Europe, and Asia once it's complete. It's expected to be fully completed by 2024.
The 2Africa cable is tipped to connect over three billion people, with RTI predicting that the subsea cable will generate between $26.2 to $36.4 billion (at purchasing power parities) on Africa's GDP within two to three years of becoming operational.
"We are very content with Telecom Egypt's continuous achievements in extending its international infrastructure. We recently celebrated the landing of our Red2Med cable system in Ras Ghareb, and today we are excited to announce the first landing of 2Africa in the same location," said Telecom Egypt MD and CEO Adel Hamed.
Another landing point is expected in Port Said in the Mediterranean Sea in the coming months added Telecom Egypt.
According to Telecom Egypt, the Ras Ghareb landing will connect to the upcoming Port Said landing via two terrestrial trans-Egypt routes adjacent to the Suez Canal.
2Africa's cable recently landed in Barcelona, with Alcatel Submarine Networks (ASN) laying this portion of the cable at the new landing station in the city.