Airtel is partnering with Meta to land the upcoming 2Africa cable in the telco's Cable Landing Station (CLS) in Mumbai, India.
The Indian telco will partner with Meta and STC to extend 2Africa Pearls to India. Airtel said it and Meta will extend the cable to Airtel's landing station in Mumbai and also pick up the dedicated capacity to 'further strengthen its submarine network portfolio'.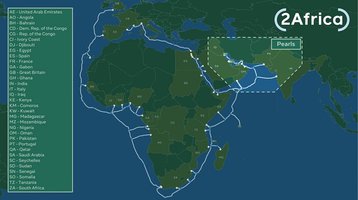 The two companies said they would jointly invest in global connectivity infrastructure and CPaaS based digital solutions to support customers and enterprises in India.
Vani Venkatesh, CEO - global business, Bharti Airtel said: "We, at Airtel, are delighted to deepen our partnership with Meta to serve India's digitally connected economy by leveraging the technology and infrastructure strengths of both companies. With our contributions to the 2Africa cable and Open RAN, we are investing in crucial and progressive connectivity infrastructure which is needed to support the increasing demand for high-speed data in India. We look forward to working closely with Meta to deliver best-in-class digital experiences to our customers in India."
Francisco Varela, vice president of mobile partnerships for Meta, added: "Subsea cables and open, disaggregated networks continue to play a huge role in the foundational infrastructure needed to support network capacity and fuel innovation. We look forward to continuing our collaboration with Airtel to further advance the region's connectivity infrastructure that will enable a better network experience for people and businesses across India."
First announced in 2020, the Meta-led 2Africa cable system is set to circle the African continent. Last year an extension to the original 2Africa cable, known as 2Africa Pearls, was announced. The extension outlines plans for further landing points in Oman, UAE, Qatar, Bahrain, Kuwait, Iraq, Pakistan, India, and Saudi Arabia.
Already set to be 37,000 kilometers long, the Pearls extension will take the cable to more than 45,000km and make it the longest cable in the world. Including Pearls, the cable is set to link 33 countries across 46 landing points once it goes live in 2023/2024.
Companies including Telecom Egypt, China Mobile International, MTN GlobalConnect, Orange, STC, Vodafone, and the West Indian Ocean Cable Company (WIOCC) are involved in the project.
The cable system has already landed in Ras Ghareb, Egypt; Barcelona, Spain; Genoa, Italy; and Djibouti City, Djibouti.
Bharti Airtel's Mumbai CLS is the landing point for the SEA-ME-WE 4 and Europe India Gateway (EIG) cable systems. There are two other CLS in the area; one owned by Reliance Globalcom and another owned by Tata Communications.