October has been full of subsea cable news.
Across Europe, Asia, the Middle East, and the US, new cables are being developed, others launched, while cable landing stations (CLS) are under construction.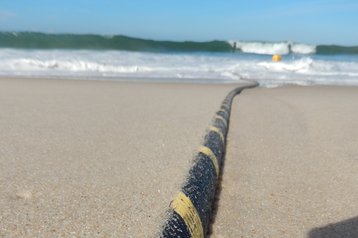 - Telco PLDT has begun construction of the Philippine link of the Asia Direct Cable (ADC).
The 9,400 km cable will run from Batangas to Singapore; Chung Hom Kok, Hong Kong; Maruyama, Japan; Quy Nhon, Vietnam; Sri Racha, Thailand; and Shantou, China. The completion of all landing links is targeted by the end of 2023.
The cable will offer 36 Tbps. China Telecom, China Unicom, National Telecom, Singtel, SoftBank Corp., Tata Communications, and Viettel Group are all part of the ADC consortium. Completion of all landing links is expected by the end of next year.
PLDT is also constructing a new cable landing station in Baler, Aurora. Set for completion in 2024, it will be the company's fourth in the area.
In July the company inaugurated the CLS for the US-Japan-Philippines Jupiter system in Daet, Camarines Norte, and activated the cable.
- Far North Fiber (FNF) has selected Alcatel Submarine Networks (ASN) to build and install a cable running from Japan through the Northwest Passage.
The newly-formed company has secured a line of credit and engaged with major investors but yet to name customers, investors, and/or government agencies to complete the financing package. Reports suggest the European Union Commission is considering an investment in the $1 billion project.
Alaska's Far North Digital, Cinia, Arteria are part of the consortium, which is planning a 14,000km open-network repeatered 12-fiber-pair cable system for a total of 150 Tbps. The cable is expected to have landings in Alaska and the Canadian Arctic, as well as Norway, Finland, and Ireland. It is expected to be complete by the end of 2026.
Far North Digital is planning a Tier III colocation data center on a 43-acre site in Prudhoe Bay on Alaska's north coast that would be a landing point for the cable.
- The PEACE cable running from Pakistan and Kenya to Egypt and France is to add another landing point in Tunisia.
PCCW Global and Ooredoo Tunisia this month signed an agreement to extend the cable to the north African country by 2024. Ooredoo will have total ownership of the system within Tunisia.
- Submarine cable operator Seaborn is reportedly reassessing possible extensions and new branches for its US-Brazil Seabras-1 cable.
Activated in 2017, the 10,500km cable links Praia Grande on the coast of São Paulo state to New Jersey in the US. In the wake of a 2020 bankruptcy, the company is no longer considering a 500km section of cable to Recife in Brazil's northeast, but is exploring other possible options along the route.
- Telecom Egypt this week inaugurated the new Red2Med submarine cable.
The new cable runs from Ras Ghareb landing point in the Red Sea to the landing station in Port Said in the Mediterranean via the Suez Canal. This is the company's 15th subsea cable.
- Telecoms firm Unidata S.p.A. has appointed Alcatel Submarine Networks (ASN) and Elettra Tlc S.p.A. to construct the Unitirreno submarine cable system.
The 24-fiber pair domestic cable will span approximately 890 kilometers in the Tyrrhenian Sea to connect Mazara del Vallo in Sicily with Genoa and include a junction point near Rome.
- India's Gujarat to get its first cable landing station.
The government of Gujarat has signed an MoU with Lightstorm to develop the state's first submarine cable landing station. Details weren't included, but the company's SmartNet network includes Gujarat's coastal town of Mundra as a location.
Earlier this year Lightstorm, which is developing a terrestrial fiber network across the country, signed an agreement to host Cinturion's Europe-to-India Trans Europe Asia System (TEAS).
- The Monet submarine network upgrades to Infinera's ICE6.
Algar Telecom and Angola Cables have selected Infinera to deploy its ICE6 800G optical engine to increase capacity and reach. The cable, which includes Google and Antel as investors, connects Boca Raton in Florida with Fortaleza and Praia Grande in Brazil.
- The Philippine Domestic Submarine Cable Network (PDSCN) – a joint project including Globe, Eastern Communications, and InfiniVAN – has reached Mactan Island.
The companies announced this month the 2,500 km cable had landed in Cebu city. The cable has previously landed in Lucena City, Quezon; Boac, Marinduque; Calatrava; Romblon; Placer, Masbate; Iloilo City; Bacolod City; Roxas City; Siargao; Surigao del Norte; Palompon; and Leyte.
- SEA-ME-WE 6 to land in the Maldives.
The Asian Development Bank (ADB) and Dhivehi Raajjeyge Gulhun Public Limited Company (Dhiraagu) have agreed on a $20 million debt financing facility to land the SEA-ME-WE 6 submarine cable system on the island. The system is set to run from Malaysia, Singapore, and Indonesia via India, Bangladesh, and the Middle East to Italy and France.
- LS Cable & Systems is to make a 25.2 billion won ($17.58 million) equity investment in cable ship operator KT Submarine to foster its undersea cable business.
The cable manufacturer will initially take a 16 percent stake in KT Submarine by December, and become the second-largest shareholder of KT Submarine. From next year, the company can purchase a 42 percent stake in KT Submarine and become its largest shareholder. KT Submarine was established in 1995 as a joint venture of KT and Hanjin Shipping. LS Cable has previously had to lease cable-laying ships or outsource installation work, but the acquisition will allow it to use KT Submarine's resources.