Yondr Group has broken ground on its new data center campus in Loudoun County, Northern Virginia.
The company, in partnership with JK Land Holdings, LLC (JKLH), this week announced it has broken ground on the first phase of the project. The two-building campus will deliver 96MW of capacity, with room for future expansion.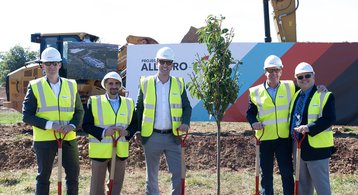 "Northern Virginia is the nation's data center corridor and a strategic metro where we see some of the largest cloud capacity demands," said Eanna Murphy, COO, Global Design and Construction at Yondr Group. "This groundbreaking marks our first facility in the Americas and we are looking forward to serving our clients' capacity needs in this region."
"This project is located in one of the most sought-after data center locations in the world and we are looking forward to our continued work with Yondr as we get this project off the ground," said Chuck Kuhn, CEO, JK Land Holdings, LLC, and Founder and CEO, JK Moving Services, the nation's largest independently owned and operated moving company.
After announcing a $2 billion data center expansion plan into North and South America last year, Yondr acquired 270 acres of land in Northern Virginia across in Loudoun and Prince William Counties for projects totaling 500MW.
The company hasn't disclosed the precise locations of either plot. The Prince William lot is likely larger, with JKLH involved in a 200-acre development in Gainesville.
Yondr aims to deliver data centers across five continents by 2024, and has projects currently under development in London, Frankfurt, Berlin, Indonesia, Malaysia, and 'multiple cities' in India.
JK Land Holdings, LLC seeks land acquisitions that can be sold, leased, developed—including for data centers, placed into conservation easement, or utilized by sister companies JK Moving Services and CapRelo.
More in Construction & Site Selection