VMware has announced a set of product updates, many of which focus on AI, while Broadcom's $61 billion bid to buy the company seems likely to go through in the next few weeks.
The announcements, at the virtualization giant's annual conference in Las Vegas, included updates to virtualized storage, a ranswomware recovery option, and AI added to its Tanzu containerized DevOps platform.
Among the smaller details, VMware could boost the take-up of SmartNICs (network cards with offload processors) with a change in how the company's vSphere virtualization product supports them.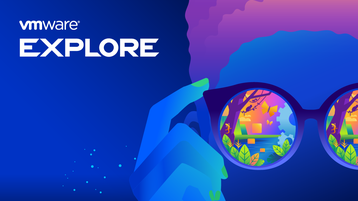 VMware has been a major tech player for more than 20 years, since its introduction of the ability to virtualize workloads on Intel processors, which essentially enabled modern tech delivery and support methods, including the cloud.
It was bought by storage company EMC in 2004, and then under the leadership of CEO Pat Gelsinger, its status increased till it played a giant role in Dell's 2016 acquisition of EMC for $67 billion. In 2021, Dell announced it would spin VMware back out. Silicon and infrastructure vendor Broadcom made its bid for VMware in 2022, and this has been clearing regulatory hurdles since then. The UK's Competition and Markets Authority (CMA) cleared the merger this week, and it is expected to complete by October 31.
At VMware Explore (the new name for VMware's long-running VMworld events) in San Jose, the company brought on Nvidia CEO Jensen Huang to launch an AI version of VMware's Cloud Foundation package. This lets virtual machines use up to 16 GPUs, and is clearly designed to make it easier to spin up AI models and frameworks in a VMware private cloud.
Other specialized virtualization offerings include a new vector database VM. These are apparently the start of a repository of prefabricated VMs for specialized use.
The company also announced a "Max" upgrade of its VSAN storage product, with up to 8.6 petabytes of capacity, and boosted its NSX virtual networking product.
A Ransomware Recovery product could turn out to be useful insurance: it takes snapshots of VMs, so they can be brought back to life if hit by hackers.
VMware added AI to its Tanzu containerized DevOps platform, promising that the new smarter Tanzu will be able to understand and troubleshoot Kubernetes clusters, optimizing their performance with minimal manual interventions.
AI magic is also introduced to do a similar job in VMware's virtual desktop offering.
Meanwhile, an interesting adjustment to vSPhere's network support could be a boost for the take-up of SmartNICs, network cards fitted with offload processors sometimes referred to as DPUs. VMware began to support SmarNICs in 2022, but so far they have only been allowed in new servers, so their adoption in VMware shops has been tied to server refreshes.
In an update due before the end of the year. vSphere will be able to spot and manage SmartNICs that have been retrofitted in existing servers, allowing keen users to retrofit them.
Paul Turner, product management veep for VMware's Cloud Infrastructure Platform, told Simon Sharwood at The Register that this could boost take-up, saying that right now DPUs were doing OK but not "flying out the door."