Vantage is proposing to develop a data center adjacent to a number of Google buildings in San Jose, California.
First reported by SiliconValley.com via city planning documents, Vantage is proposing to develop a data center on 9.8 acres at 105 Nortech Parkway in San Jose's Alviso district.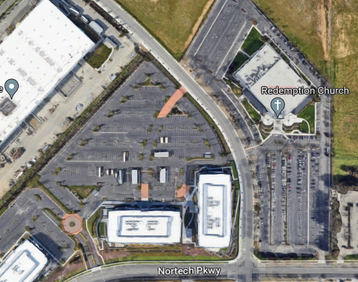 Specifications of the facility haven't been disclosed.
The site is currently home to a Christian church. Founded in 1991, Redemption Church owns two sites in San Jose and Greenville, South Carolina.
The Jubilee Christian Center of San Jose is the owner of the property, a database of Santa Clara County real estate records shows. Jubilee has owned the site since at least 1992. The property was valued at more than $17 million last year, according to SV.
Google owns a number of facilities – both warehouses and offices – on Nortech Parkway and the adjacent Disk Drive. It has acquired around nine buildings in the immediate area over the course of several years, spending more than $400 million in the process.
DigitalBridge-owned Vantage currently operates two California campuses in Santa Clara; the first launched in 2011 after the then-newly-formed company acquired the site from Intel, with the second commencing construction in 2018. At full build-out, the two sites will offer a combined 154MW across nine facilities and 876,000 sq ft (81,385 sqm).
In late December 2022, the company secured a $350 million loan to develop a seven-acre site in Santa Clara at 2590 Walsh Ave. it acquired the previous year for $40 million.
While there is high demand for data center capacity in the Silicon Valley area, lack of space and power remains a challenge for companies.
Google, meanwhile, has reportedly paused an office campus in downtown San Jose known as 'Downtown West' according to CNBC. The construction project, which was supposed to break ground before the end of 2023, has been put on pause with no plan to restart construction communicated to contractors according to people familiar with the matter.