Data center advisory company Upstack has signed a strategic partnership with a company that is building a hyperscale data center in a remote part of Wyoming.
The deal gives Upstack access to the Wyoming Hyperscale White Box facility which is due to open before the end of this year in a remote mountainous site near Evanston. It also sees James Caulfield, a full-time executive adviser at Upstack, take another role with Wyoming Hyperscale, handling Enterprise Sales and Government Accounts.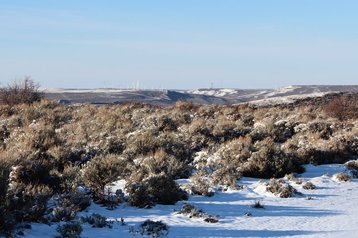 Wyoming Hyperscale White Box (WHWB) is building a data center cluster on 58 acres of land on Aspen Mountain, southeast of Evanston. The facility will deliver high-performance computing from Submer liquid cooling tanks, with nickel-zinc batteries for backup. Waste heat will be pumped underground to a nearby farm.
The land, the farm, and the data center are owned by the Thornocks, a cattle-ranching family who describe the facility as "the most advanced sustainable data center in the United States".
"We've tapped the industry's pre-eminent experts in every field to help us realize our goal to create the most sustainable high-density data center," said Trenton Thornock, Founder and Managing Member of Wyoming Hyperscale. "We chose Upstack as our strategic partner because of their advisors' vast data center expertise and unmatched reputations for delivering trusted guidance to data center solution decision-makers."
Upstack offers a platform to select data center space and technology, and has engaged on a large expansion spree in recent months, buying multiple small advisory companies since April 2021 using a $50 million investment from Berkshire Partners, followed by $100 million from MidCap Financial and Morgan Stanley Private Credit.
Upstack's release says that the company can "source, negotiate and implement optimal Internet infrastructure solutions for their valued customers," putting together solutions for them so they can approach a single source for services from "hundreds of proven providers along."
Upstack says the three advisors leading the partnership with Wyoming Hyperscale are James Caulfield, Jeremy Dodds, and Brian Fagan, all three of whom founded advisory firm Cloudwirx in 2015, and joined Upstack when Cloudwirx was acquired early in Upstack's expansion.
LinkedIn shows that Caulfield has worked on sales at Wyoming Hyperscale since November, while Dodds, previously Cloudwirx' CE, has been strategic advisor to the CEO at Wyoming Hyperscale since the same date.
In response to a query from DCD, Upstack said that entering into a direct partnership with a data center provider was not a change in its business model.
"Upstack's proposition has not changed," said the company. "The partnership with WHWB further strengthens Upstack's vendor-neutral approach as it provides our customers with a new -and uniquely sustainable - option when evaluating data center solutions based on the needs and requirements of its business, which now often include corporate ESG criteria."
Upstack said it is not paying for space at Wyoming Hyperscale, and has not taken equity in the company. Wyoming Hyperscale is not paying Upstack for the publicity, said Upstack.