Wyoming Hyperscale White Box, a developer planning to open its first data center this year in a remote mountainous site in Evanston, has announced it will use nickel-zinc batteries.
The sustainable data center, which has already committed to using liquid cooling from Submer, will also use ZincFive's BC Series UPS Battery Cabinets as its sole source of backup energy storage for the initial 30MW of the site, according to Wyoming Hyperscale. The facility is being built in Aspen, near Evanston, Uinta County, Wyoming, remote from local population centers but close to a fiber line.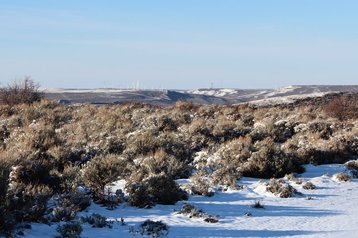 Zinc batteries
As well as using liquid cooling, the data center will be powered by local wind farms, will use zero water, and will share its waste heat with an indoor farm. The project is led by various members of the Thornock family, described as "sixth-generation ranchers" and is situated on family land which has fiber optic connectivity already in place.
Nickel-zinc batteries are not widely-used yet in data centers, but ZincFive says they offer better power density than lead-acid or even lithium-ion batteries, and are better for the environment, with a claimed greenhouse gas (GHG) footprint only 25 percent that of lithium-ion or lead-acid. They are less likely to suffer from destructive thermal runaway because they use an aqueous solution, and their chemicals are less toxic and easier to recycle.
ZincFive launched its MegaWatt scale battery cabinets in 2020, and the systems have been in long-term tests at QTS. The company says Wyoming Hyperscale is the first customer to use them as a sole source of energy storage.
"As the importance of sustainability in data center backup battery systems continues to grow as a requirement, Wyoming Hyperscale is leading the way by incorporating nickel-zinc batteries into their sustainability strategy," said ZincFive CEO and co-founder Tim Hysell. "Our shared commitment to reducing carbon footprint and operating costs without sacrificing safety or performance is what makes our solution a great fit for all future and current data centers."