Wyoming Hyperscale has adopted Submer liquid cooling, and signed for networking from Lumen (formerly CenturyLink), in a bid to create an efficient hyperscale data center in a remote stretch of mountainous land.
The project, full name Wyoming Hyperscale White Box LLC, aims to build a liquid-cooled data center near Evanston, Uinta County, using liquid cooling from Submer, and powered by wind energy from local wind farms, with its waste heat used in an indoor farm. The proposal is led by various members of the Thornock family, described as "sixth-generation ranchers" and situated on family land which has fiber optic connectivity already in place.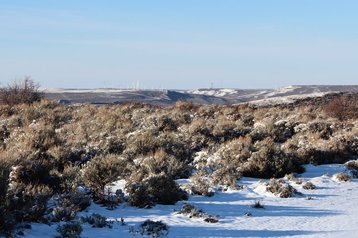 "PUE less than 1"
"Land stewardship is a key driver of our site selection," says a statement from founder Brady Thornock and his brother Trenton, on the Wyoming Hyperscale site. "The land selected is a pad consisting of excavated material from one of the tunnels below Aspen Mountain, deposited between 1947 and 1974. While ideal for building, the site does not support sufficient plant life and would be best capped with concrete and repurposed, to prevent erosion.
"It also just happens to be at a splice point in the global fiber optic network infrastructure."
It's also owned by the Thornock's parents according to the site which says: "Our Parents (Direct) and our other five siblings (Indirect) are beneficial owners of this Project."
The group proposes a 30MW first phase, consisting of three 10MW halls each standing on 13,000 sq ft (1200 sq m), with a substation designed to deliver up to 120MW. The facility will support up to 100kW per rack, and is planned to be designed to the equivalent of Uptime Tier III. The project should be running by April 2022.
The group promises to use zero water, and run no HVAC or CRAC units, and suggests multiple ways to remove heat, including radiative cooling, and using waste heat in an indoor farm.
The newly set up Wyoming Hyperscale Indoor Farms will use the data center's waste heat for "precision agriculture", producing "fresher produce for communities in southwest Wyoming". It has an operating parter - another familoy member, Kay Thornock, whose shipping company has implemented technology such as a "robotic, GPS-controlled irrigation system".
Wyoming Hyperscale also says the site will be "geothermal coupled", possibly a reference to using geothermal cooling as well.
For its future, Wyoming Hyperscale says it plans to spread beyond the Thornock land at Evanston and build data centers "around the world".
It also says its data center will have a "Power Usage Effectiveness [PUE] less than 1", a claim that is not possible under the definition of PUE.