The UK government has launched trials aimed at boosting Internet connection in some of the country's most remote areas, using Low Earth Orbiting (LEO) satellites.
From today, trials have begun to deploy satellite connectivity to some of the UK's 'hardest to reach' areas, said the UK government in a statement.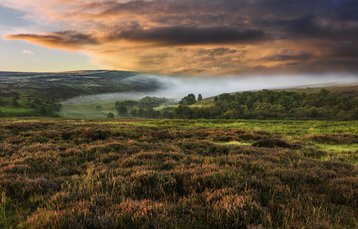 These hard-to-reach locations make up less than one percent of sites in the UK which are almost impossible to reach via expensive physical cables, and are located in places such as mountains and smaller isolated islands.
The government has identified a 12th-century abbey in the North Yorkshire Moors National Park, a scout camping site in Snowdonia, a Lake District mountain rescue base, and other remote premises as use cases for its LEO satellite trials.
These locations will have equipment installed that will enable them to connect to a satellite orbiting the globe. The UK government claims that these satellites can provide broadband speeds up to 10 times faster.
If successful, the government will consider the viability of using satellite technology to connect other parts of the UK.
The pilot comes off the back of the UK government's £5 billion ($6.1 billion) program to roll out gigabit broadband across the country to reach 99 percent nationwide coverage.
But the government has acknowledged that not all of the UK will be possible to reach, hence the focus on exploring LEO satellite connectivity opportunities.
"High-speed broadband beamed to Earth from space could be the answer to the connectivity issues suffered by people in premises stuck in the digital slow lane," said Digital Secretary Michelle Donelan.
"Ensuring everyone can get a quality internet connection is crucial to our leveling up plans, and these trials aim to find a solution to the prohibitively high cost of rolling out cables to far-flung locations."
Initial trials in the aforementioned locations will be carried out using equipment supplied by Starlink, a subsidiary of SpaceX. The UK government mentions that it may also work with OneWeb in the future.
World Mobile this week revealed it is working with Starlink to provide connectivity to Pencarnan Farm, a remote caravan site in Wales. The deployment pilot in Pembrokeshire tested the use of Starlink's satellite network as a backhaul option for World Mobile's AirNodes access points.
LEO sats are the rage right now
LEO satellites are proving to be very popular in the telecoms world right now, with them being seen as a great alternative to more traditional ways of providing comms to communities.
Elon Musk's SpaceX has been one the biggest names in this field, with the firm striking a partnership with US operator T-Mobile to provide remote areas of the US with mobile connectivity from space.
Belgian communications firm BICS also signaled its intentions with expanding mobile coverage to remote areas, via satellite after penning a deal with satellite-direct-to-phone telecoms company Lynk. And earlier this year Lynk deployed its Lynk Tower 1 satellite into space, its first spacecraft covered by an FCC license to operate a satellite direct-to-phone service.
Meanwhile, AST SpaceMobile is also developing its own constellation of direct-to-mobile satellite communication satellites, and has agreements with Vodafone and AT&T.
It's even been tapped into by the smartphone sector, with tech giants Apple providing emergency SOS via satellite, through Globalstar's satellite connectivity with its latest iPhone 14.
Chinese vendor Huawei has also demonstrated its capabilities in this arena, with its new Mate 50 smartphone offering the ability to send texts via satellite communications, while rugged smartphone company Bullitt Group is launching a satellite-to-mobile messaging smartphone next year.