Ground has been broken on a new solar farm in Tennessee that will supply Meta's Gallatin data centers with renewable energy.
The Tennessee Valley Authority (TVA), Meta (formerly Facebook), the Jackson Energy Authority (JEA), and Silicon Ranch announced this week that they had broken ground on a new 70MW solar facility in Madison County, Tennessee.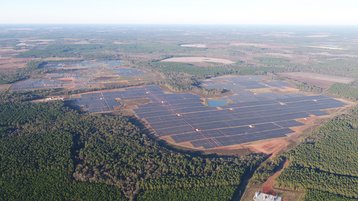 Nashville-based Silicon Ranch will fund, own, operate, and maintain the McKellar Solar Farm; it expects to invest upwards of $90 million to construct the facility.
"At Silicon Ranch we believe that solar projects can create enduring value and deliver a meaningful legacy for their communities, and we thank TVA, Meta, JEA, and the Jackson Chamber for making this significant investment in Madison County possible," said Silicon Ranch Co-Founder and CEO Reagan Farr. "Silicon Ranch has been proud to partner with Meta to supply renewable energy to its data center operations in Georgia, and we're honored to support Meta's operations right here in the Tennessee Valley."
Originally announced in August 2020, the McKellar Solar Farm will help support Meta's regional operations with 100 percent renewable energy.
Construction of the facility is expected to be completed before the end of 2022, with interconnection to the TVA grid facilitated by the JEA distribution system. The original 2020 suggested the facility would be complete by fall 2022.
"We are thrilled to be partnering with TVA and Silicon Ranch to bring this new solar facility to the grid in support of our operations in the Tennessee Valley," said Urvi Parekh, head of Renewable Energy at Meta. "The more than 850MW of new solar energy we are developing with TVA is an important part of our goal to support our global operations with 100 percent renewable energy."
SR EPC, LLC (SR EPC), a wholly-owned Silicon Ranch subsidiary, is the Prime Contractor for the project. SR EPC engaged PCL Construction as the subcontractor for the PV plant and EPC Services Company as the subcontractor for the substation. "Solar energy plays a critical role in our pathway to a more sustainable future. PLC is excited to leverage its experience in building over 50 utility-scale projects, to construct the McKellar solar facility," said Brad Hise, PCL's Solar Operations Manager.
"This solar farm is the largest project to date in JEA's service territory, reflecting our commitment to providing sustainable, reliable, and affordable power in the Tennessee Valley," said Jim Ferrell, President and CEO of Jackson Energy Authority. "We are proud to partner with Meta, TVA, and Silicon Ranch to supply carbon-free solar power for many years to come."
Meta – then Facebook – first announced plans for an 800-acre Tennessee campus in 2020 with DPR Construction recently celebrating the topping out of the first data center on the site earlier this year. The company has also filed for permission to construct another building on the site with 627,000 square feet (58,250 sqm) of data center space and 45,000 sq ft (4,180 sqm) of office space
The social media giant last year signed a 110MW power purchase agreement (PPA) to procure solar energy for the Gallatin facility from 2023. Facebook and the Tennessee Valley Authority signed a 377MW solar deal in 2018, and Silicon Ranch has previously built a solar farm for the company's operations in Georgia. The three parties also came together for a 145MW PPA in Kentucky last year.