Thor Equities has acquired a former Coca-Cola bottling plant in Madrid for its planned data center campus.
Swiss real estate investment advisor Stoneweg this week announced it had completed the sale of a former bottling plant of Casbega in Fuenlabrada – an industrial site in Madrid – to Thor on behalf of the Icona Capital Group.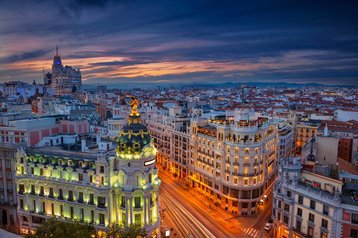 Terms of the deal were not disclosed.
Founded in 1986, Thor has traditionally focused on retail, residential, and industrial buildings. Its portfolio spans locations in the US, Europe, and Latin America. Thor's new digital infrastructure unit, Thor Digital, was first announced in April 2022 with plans to develop a new hyperscale data center campus in Madrid.
Led by former Ark Data Centres' sales & marketing director Roy Gibbens, phase one of Thor's 'Madrid One' campus will offer up to 20MW of capacity, growing to more than 100MW. Thor aims to invest €600 million in the project. Timelines for the project haven't been shared.
Stoneweg acquired the 211,000 sqm (2.27 million sq ft) site in the Nino del Remedio Industrial Estate in 2020. The bottling plant was originally shut in 2014, but was forced to reopen in 2015 after a legal challenge from workers.
Jaume Sabater, CEO of Stoneweg, said: "Stoneweg has become a highly trusted partner of Icona, having executed the original acquisition of this asset as well as its successful sale, just two examples of our expert team's ability to deliver strong returns on behalf of our clients. We hope to continue our relationship with Icona and look forward to working with them again in the future."
Icona is an independent investor controlled by Max-Hervé George. Based in London, Icona has more than €2.5bn of gross assets under management. For this deal, Icona was advised by the Swiss banking group, CBH Bank of Geneva.
Icona's Max-Hervé George added: "We worked closely with Stoneweg to locate a site of this quality in Madrid as part of our investment expansion into southern Europe. We have been very pleased that its location and opportunity has been recognized by Thor."
Earlier this month Stack announced plans for an 80MW data center in Frankfurt, Germany, on the site of a former Coca-Cola bottling plant that closed last year.