US real estate group Thor Equities is planning a move into data centers and is aiming to develop its first facility in Madrid, Spain.
First reported by DCM, the company is launching a new data center division, Thor Digital, which is led by former Ark Data Centres' sales & marketing director, Roy Gibbens.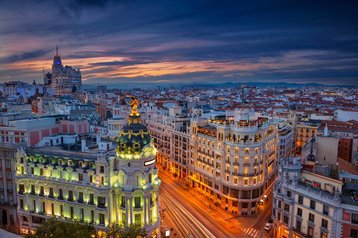 The company is planning a €600M facility in Madrid, to be called 'Madrid One'. Phase one of the 200,000 sqm campus will offer up to 20MW of capacity, growing to more than 100MW.
"Our decision to enter the data center asset class is consistent with our forward-looking approach and strategy to acquire and develop high-quality assets globally, beginning with 'Madrid One'," said Chairman of Thor Equities Group, Joseph Sitt. "As Thor's first project in the sector, this development is representative of our commitment to building a wide-ranging portfolio in Europe and will allow us to enhance our capabilities as a developer and manager."
According to the company, the project is at an advanced stage of design and permitting with construction to begin later this year. It is working with Arnaiz, a local operating partner and specialists in land promotion and development; Quark, a local data center engineering company; and Frank Hassett (Global Data Centre Design).
"We are thrilled to enter the ever-evolving data center class with Roy Gibbens spearheading Thor Digital. Roy will play an instrumental role in sourcing opportunities in key markets globally and distinguish Thor as a leader in the industry," said Head of Thor Equities Europe, David Hunt-Cuadrado. "Importantly Spain has one of the most reliable energy networks in Europe whilst also benefiting from both strong fiber and network connectivity with both South America and Africa."
Founded in 1986, Thor has traditionally focused on retail, residential, and industrial buildings. Its portfolio spans locations in the US, Europe, and Latin America.
More in Construction & Site Selection