Stack Infrastructure is to build a new data center in Frankfurt in a former Coca-Cola bottling plant.
The company this week announced that it plans to develop an 80MW campus in the Liederbach area in the west of the German city. Timelines for development were not shared.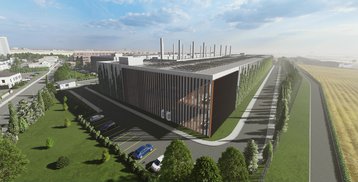 The company acquired the 17-acre site from Coca-Cola Europacific Partners Deutschland GmbH (CCEP DE), who operated a bottling and distribution plant at the location for more than 50 years.
The campus will accommodate four facilities and include green initiatives such as rainwater harvesting and providing excess heat to a proposed local residential development.
"Stack prides itself on being a trusted partner to our clients. We recognize that there is an overwhelming demand for fast, flexible, resilient, and efficient data center infrastructure in Frankfurt, so we've taken up the call to deliver exactly what our clients expect," said John Eland, CEO of Stack EMEA. "We relish the opportunity to be a positive force in the local community while delivering world-class solutions backed by STACK's global platform."
Stack was launched by investment firm IPI Partners in early 2019 after merging former Infomart and T5 assets into a new wholesale colocation provider. Traditionally focused on the US, it has recently expanded into Europe through IPI acquiring and rebranding Supernap Italia, Safe Host, and Digiplex under the Stack banner.
"The Municipality of Liederbach is proud to welcome its first data center campus and to facilitate an ever more connected world," said Eva Söllner, Mayor of Liederbach. "We are confident that Stack will bring several short- and long-term advantages as well as new perspectives to our town and the area so we welcome them and look forward to supporting their growth."
The Coca-Cola location in Liederbach was founded in 1972 and soft drinks such as Coca-Cola, Fanta, and Sprite were bottled on three production lines at the plant. Up to 35 million crates of drinks left the plant each year. Coca-Cola shut down the bottling plant last year and planned to move operations to Karlsruhe and a new site in the Mörfelden-Walldorf area of Frankfurt.
After the site's closure, the company sought to sell the 70,000 square meter (753,475 sq ft) property located on Sindlinger Weg, with the Frankfurter Allgemeine noting there was interest from several unnamed data center firms.
More in Construction & Site Selection