Thales and Google have announced a new joint venture to offer a sovereign cloud service in France.
The two companies announced a strategic agreement to co-develop a 'sovereign hyperscale cloud offering' for the countries.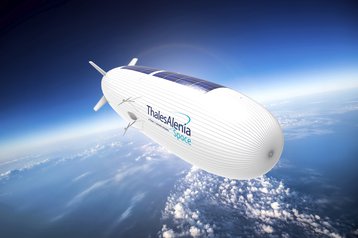 The new company will offer cloud services to local public and private companies that meet the French 'Trusted Cloud' requirements defined by France's Information Systems Security Agency (ANSSI).
"Thanks to this unique collaboration with Google Cloud, we will be able to help power the digital transformation for organizations of all sizes and industries that want to keep control and sovereignty over their data and that of their customers. Together, we will address the criteria defined by the government for a trusted cloud, as well as environmental goals with a sustainable approach for the infrastructure we will build," said Marc Darmon, EVP, Secure Communications and Information Systems at Thales.
French defense giant Thales will be the majority shareholder of the new as-yet-unnamed company, which will offer Google Cloud services from a separate network and servers hosted in France.
"Thales and Google Cloud have a joint vision to deliver the most innovative and trusted solutions to companies and public sector organizations in France. Our unique approach to addressing the concerns of French citizens and government bodies, including the development of a new company, ensures organizations can benefit from the innovation and agility of the cloud, without compromising on the security, privacy, and sovereignty required by the French government," said Thomas Kurian, CEO at Google Cloud.
The new cloud will locally-secured with identity management, data encryption, administration, and supervision being provided by the new company.
"The government's national cloud strategy clearly specifies the state's willingness to use and promote high-performance and trusted cloud offerings. ANSSI therefore enthusiastically welcomes this ambitious project that meets these criteria," added Guillaume Poupard, Director General of ANSSI.
In May the French Government said the country's most sensitive state and corporate data could be stored in the cloud the cloud using Google and Microsoft technology if it is licensed to French companies.
Earlier this year Capgemini and Orange announced plans to establish a new cloud company known as Bleu to meet the stringent sovereignty requirements of the French state & critical infrastructure and resell Microsoft services. Orange, meanwhile, is moving most of its IT to Google Cloud.
Last month Google announced that it was working with Deutsche Telekom to create a German Sovereign Cloud that provides Google Cloud services from infrastructure managed by T-Systems.
In Italy Telecom Italia (TIM) is submitting a bid with defense group Leonardo, state lender CDP, and state-owned IT firm Sogei to create a €900 million ($1.07 billion) 'Italian Cloud Hub'. US cloud giants such as Google, Microsoft, and AWS could provide their technology to the national cloud hub if it is licensed to companies taking part in the hub project, officials said.
Deutsche Telekom, Orange, Capgemini, Leonardo, Sogei, and TIM are all also members of the Gaia-X federated data infrastructure initiative, which aims to create a framework for interoperable cloud services that meet European requirements and reduce dependency on the large US-based providers.
More in Cloud & Hyperscale