Cryptocurrency firm TeraWulf has raised another $15 million, months after going public a $200 million debt and equity financing round.
The company this month announced that existing shareholders, newly appointed directors, along with company leadership, have contributed approximately $15 million in new capital to the Company.
"We are now ramping mining operations at our Lake Mariner facility, with the Nautilus site expected to begin in the second half of the year, and continue to believe that TeraWulf is uniquely positioned to deliver shareholder value as a leading vertically-integrated, environmentally clean bitcoin miner," said teraWulf CEO and chair of the board of TeraWulf Paul Prager.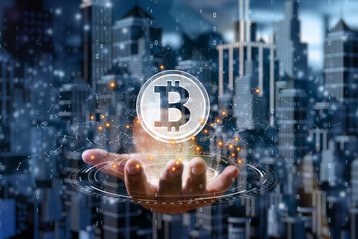 The news follows months after Academy Award-winning actress Gwyneth Paltrow took part in the $200 million debt and equity financing for the company, which recently listed on the Nasdaq stock exchange.
Other celebrity investors include Beautycon Media CEO Moj Mahdara, comedians and actresses Mindy Kaling and Lilly Singh, KITH CEO Ronnie Fieg, and TikTok head of global marketing Nick Tran.
In December 2021 TeraWulf went public through a business combination with printing company Ikonics Corporation. Ikonics has no link to crypto, instead making the likes of emulsions, films, and sandcarving & pattern development machines. TeraWulf has previously said that after the merger the Ikonic part of the business will be "positioned for sale."
TeraWulf currently operates Lake Mariner Mining; a hydroelectric-powered mining facility on the site of a retired coal plant on the shores of Lake Ontario, New York. The company has secured 90MW of power but says it could reach up to 500MW on-site.
Last year, it was announced that TeraWulf would be joining Talen's for its 300MW+ nuclear-powered Susquehanna Hyperscale facility in Pennsylvania as part of TeraWulfs goal to produce Bitcoin using only nuclear, hydroelectric, solar power, or other zero-carbon energies. The two companies' joint venture is known as Nautilus Crytomine LLC and was registered in March 2021. According to Talen's ESG report, the data center portion of the development will be 48MW and will come online later this year.
The company said it expects to reach 800MW of mining capacity by 2025. CEO Prager founded and is President of energy firm Beowulf Energy LLC, which has previously formed agreements with crypto firm Marathon to co-locate a cryptomine data center on land adjacent to its 105 MW Hardin Generating Station in Hardin, Montana.
Cryptocurrency has been a controversial technological development due to its significant energy consumption, with countries such as Kazakhstan cracking down on illegal mining operations, and China making efforts to ban mining in the country. Cryptomine data centers continue to expand rapidly across the US.