Telstra has installed a new off-grid solar and battery storage solution at one of its cell towers in Australia.
The Australian telco has partnered with local energy firm Horizon Power and its subsidiary Boundary Power to transition a remote mobile tower from an overhead power supply to a standalone power system (SPS).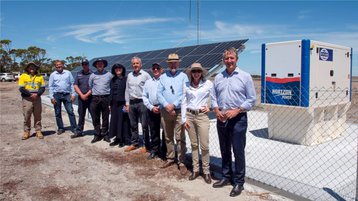 A continuous, off-grid power solution has been installed at Mount Ney, east of Esperance, Western Australia, in preparedness for emergencies and natural disasters. The SPS provides solar and battery technology to generate and store electricity without a connection to the power grid, and is being trialed by Telstra to strengthen network resiliency.
The SPS unit is powered by eight kilowatt (kW) solar panels, a 16.8kW hour battery and a 26kW back-up generator, which together can deliver 12kW of continuous power. The companies said at least six more mobile tower SPS will be deployed throughout Horizon Power's service area over the coming 24 months.
Telstra Regional general manager, Boyd Brown, said: "Whether it's telling loved ones you're ok or accessing the latest information, staying connected during a disaster is so important. Telecommunication networks need a reliable energy source to deliver vital connectivity to communities and we continually look for new ways to minimize interruptions. We are pleased to be working with Horizon Power to trial this new solution at our Mount Ney site."
The move is part of Horizon Power's AU$10 million Renew the Regions Standalone Power Systems project, due to be completed by mid-2022. 2015 bushfires destroyed powerlines and knocked out mobile communications in the Shire of Esperance area.
"Bushfires, floods, and cyclones can have a devastating impact on our network infrastructure, which provides power to other essential services like these mobile phone towers," said Horizon Power CEO Stephanie Unwin. "We know how important reliable communications is in emergency situations, and how frightening it can be for our customers and our people when the phone lines are down. We are really pleased to partner with Telstra to make sure we are continuing to help keep our communities safe, connected, and informed during stressful events."
Boundary Power is a joint venture between Horizon Power and electrical solutions provider Ampcontrol Limited to design, build, and operate stand-alone power systems.
"I'm pleased that Telstra is working with Horizon Power to keep the Esperance community safe, and hope to see SPS implemented at remote towers across the State in the future," said Energy Minister Bill Johnston.
This week also saw Israeli fuel cell company GenCell launch a new off-grid ammonia-to-power solution for mobile operators. The firm said its FOX units have been developed specifically to provide power for operators' radio networks and can keep the tower running without any need for servicing or refueling for as long as half a year.
GenCell said will be offering operators a limited number of pre-launch projects for deployment in 2022, and it will be available for full commercial deployment in 2023.
A number of telcos are looking at both generating and storing renewable power at sites on their networks. In the UK, Vodafone has developed self-powered off-grid mobile towers and plans to roll them out across rural areas of the country.
Vantage Towers recently announced plans to install 750 wind turbines on 52 of its cell towers in Germany. The company said the turbines, from startup Mowea, should cover 100 percent of the towers' energy needs and power Vodafone equipment on the masts.
Last month Telia announced it was partnering with Sweden's Polarium to test a Smart Battery Energy Storage System based on Lithium-ion technology.