Vodafone has developed self-powered mobile towers and will deploy these across the UK.
The telco has been working with Crossflow Energy for two years to use the latter's wind turbine technology in combination with solar and battery technologies to create a self-powered mobile network tower. The masts don't require connection to the electricity grid or diesel generators, the company said.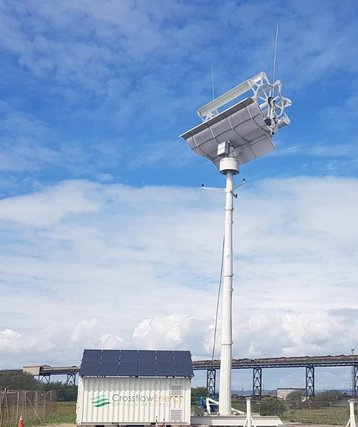 The company said the Eco-Towers will enable the deployment of new mobile sites in remote locations, without the usual difficulty and cost of connecting to the electricity grid. Vodafone, alongside network partner Cornerstone, will now run a proof of concept to install Crossflow Turbine technology on rural mobile sites; the new sites will be owned and managed by Cornerstone Telecommunications Infrastructure Limited.
"We are committed to improving rural connectivity, but this comes with some very significant challenges. Connecting masts to the energy grid can be a major barrier to delivering this objective, so making these sites self-sufficient is a huge step forward for us and for the mobile industry," said Andrea Dona, Chief Network Officer, Vodafone UK. "There is no silver bullet to reducing energy consumption, but each of these steps forward takes us closer to achieving net zero for our UK operations by 2027."
Vodafone has said its UK business will reach net zero operations by 2027. Globally the telco is aiming to halve emissions in its supply chain by 2030, before reaching net zero across its full value chain by 2040.
Martin Barnes, Chief Executive Officer, Crossflow Energy added: "We are really excited to be working with Vodafone. It's a fantastic opportunity to show how our self-powered Eco-Tower solves the problem of harnessing 'small wind' to offer not just that all-important carbon reduction, but also significant commercial benefits. In the case of Vodafone, it will help to accelerate the expansion of rural connectivity, transform energy consumption patterns and deliver significant economic and carbon savings."
Founded in 2008, Crossflow Energy has developed a unique Transverse Axis wind turbine designed to generate power from 'small wind'; locally generated wind power for single locations. Created in collaboration with Swansea University, the turbine incorporates a patented shield which delivers optimum lift and drag performance across a wide range of wind speeds, keeping low rotational speed and minimal vibration.
The new sites will be owned and managed by Cornerstone Telecommunications Infrastructure Limited and not be part of Vodafone's own tower network, which it spun off under the name Vantage Towers in 2020.
Given the intermittent nature of wind power and the lack of diesel backup generators implies that the towers must include sufficient battery power to run the equipment during extended windless periods. Vodafone has not specified how much battery storage the systems will require.
"Cornerstone is committed to sustainability and safeguarding the future of our planet. Piloting exciting initiatives like this with our partners and customers can only help us develop better ways of contributing to a sustainable, net-zero-carbon-emission future while ensuring a connected Britain," said Rhys Phillip, CEO of Cornerstone.
At the same time in South Africa, iWeb reports Vodacom Group is investing a further R500 million ($31.6 million) on batteries to power its infrastructure in the face of continued power outages across the country.
CEO Shameel Joosub has decried the frequency of load-shedding by power utility Eskom, saying the power cuts have become a "big issue" for the telecoms industry, as it impacts on the quality of service.