A report commissioned by the Australian government found that 1,390 telecoms sites were impacted by the wildfires that wreaked havoc across the country in late 2019 and early 2020.
77 percent of the facilities - which include mobile and fixed-wireless base-stations, nodes, exchanges, equipment shelters, copper and optical fiber cables - experienced outages, meaning that communities were sometimes unable to seek help when they needed it most.
A glimpse of the future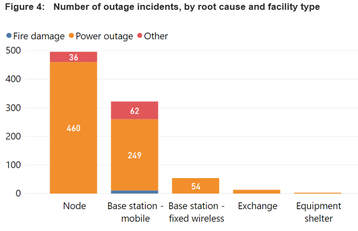 Of the 1,390 facilities, 51 percent suffered outages that lasted more than four hours, 26 percent experienced less than four hours of outages, and 23 percent were 'impacted' but did not go down.
The average length of outage incidents was 3.5 days, while the median was 1.6 days. Equipment shelters took substantially longer than the average to restore, at 23 days,
The report, written by the Australian Communications and Media Authority, noted that telecoms carriers were able to take temporary restoration action to restore services for more than one-third of outage incidents. But in two-thirds of outage cases, restoration efforts by the relevant carriers faced difficulties accessing the sites due to restrictions, such as from fallen trees.
For the entire bushfire season, 51 kilometers (31.6 miles) of copper cabling was damaged and needed to be replaced, along with 8.8 kilometers (5.5 miles) of optical fiber cabling, and an aerial transmission link.
"Most of the outage incidents were caused by power outages rather than direct fire damage," the ACMA report states.
"Direct fire damage only accounted for one percent of outage incidents. This indicates that reliance on mains power does affect network resiliency."
Those that were impacted directly by fire were among the worst hit, however. Of the 11 mobile base stations damaged by fire, only one had been restored by 31 January. "The remaining 10 facilities were damaged between 20 December 2019 to 3 January 2020 and were not restored by the end of the review period," ACMA said.
In total, the fires burnt an estimated 186,000 square kilometers (72,000 square miles) of land, destroyed over 5,900 buildings, and killed at least 34 people. Around one billion animals were killed, including endangered species that are now thought to be essentially extinct.