Talen Energy, which is developing a data center campus at one of its nuclear power stations, has seen one of its subsidiaries file for bankruptcy.
This week Talen Energy Supply (TES), a unit of Talen Energy Corp (TEC) that holds several of its power plants, filed for Chapter 11 protection.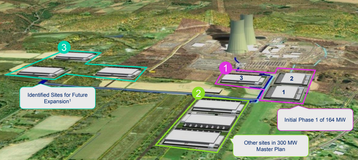 The Woodlands, Texas-based company, which runs 18 power generation facilities totaling 13,000MW, filed for bankruptcy protection in the US Bankruptcy Court for the Southern District of Texas on Monday night.
At least eight of the company's 18 power plants rely on natural gas to make electricity. With price spike in recent months, Talen was "exposed to market price volatility" restructuring adviser Ryan Omohundro said in court papers.
The company is aiming to reduce its $4.5 billion debt pile and bring in $1.65 billion in new equity from bondholders. TES has secured $1.76 billion of debtor-in-possession financing (the "DIP Facilities") led by Citigroup, Goldman Sachs, and RBC Capital Markets. The DIP Facilities are comprised of a $1 billion term loan, a $300 million revolving credit facility, and a $458 million letter of credit facility. The $1 billion term loan is being provided by an investor group of leading financial institutions.
The company said the process would "advance carbon-free data center growth initiatives, and maximize value to stakeholders."
"TES provides reliable power and grid resiliency to the markets it serves and generates strong operating cash flows for our stakeholders," said John Chesser, chief financial officer. "As we work to strengthen TES' financial position through this process, we will remain focused on taking care of our people and communities, investing in the reliability of our assets through decarbonization and other capital projects, continuing our strong operational and safety performance, and pursuing complementary growth projects which will bring demand to our generation facilities and drive future value creation. We are particularly grateful to our employees for their continued focus on executing our strategy and financing partners who have entrusted us with their capital."
As part of its bankruptcy, Talen also filed a $900 million lawsuit against its former owners, PPL Corp., claiming the company diverted money away from an affiliate of Talen. The two companies have been fighting in court for several years.
As previously reported by DCD, Talen is looking to build a 300MW+ nuclear-powered data center and cryptomining facility adjacent to its Susquehanna Steam Electric Station (SSES) in Luzerne County, Pennsylvania.
Talen Energy formed Cumulus Growth in 2020 to 'invest in opportunities created by the convergence of digital infrastructure and power' and has two separate businesses; Cumulus Data, focused on hyperscale; and Cumulus Coin, focused on digital currency mining.
Talen Energy Corporation (TEC), its Cumulus Growth subsidiary, and TES' LMBE subsidiaries are excluded from the in-court process. TES said its plants will continue to generate needed electricity for the markets they serve.
"TEC's Cumulus Growth platform will continue executing on its business plan, constructing carbon-free hyperscale data centers and digital coin processing facilities, as well as renewable energy and battery storage development projects to meet rapidly growing consumer demand for clean, reliable energy," the company said. "These projects, together with TES' generation assets, and complementary decarbonization projects, will advance the transformation of the overall business into a clean energy and digital infrastructure platform."
TES has retained Weil Gotshal & Manges LLP as its legal advisor, Evercore as its investment banker and Alvarez & Marsal as its financial advisor for its restructuring. The Consenting Noteholders are represented by Kirkland & Ellis LLP and Rothschild & Co US Inc.
Cumulus Growth is represented by Ardea Partners and DH Capital as its investment bankers, and Gibson Dunn as legal counsel. TEC is represented by PJT Partners as financial advisors and Vinson & Elkins as legal counsel.
"Our Company is at an important inflection point to strategically reposition TES for long-term value creation. This transformation must be accompanied by balance sheet repair and equity capital to drive the long-term success of the Talen-Cumulus platform and our people. By restructuring TES' balance sheet through an in-court process, we will create a strong capital structure suitable for today's elevated commodity market, position the Company for growth, and continue to build upon the many operational achievements we have made in recent years," said Talen CEO Alejandro 'Alex' Hernandez.
"With leading carbon-free nuclear and baseload generation assets critical to grid resilience, and Cumulus' growing investment in energy transition growth projects, TEC's transformation will create significant opportunities for value creation. We want to thank our TES creditors and in particular the Consenting Noteholders—the future owners of TES—for their continued support of the Company and commitment to its future."
In an ESG report from March 2021, Talen said the company was "well-positioned to capture value" in areas such as data centers and digital coins, saying the two business areas could be a "stable source of income outside of the traditional market." In the report, Talen said the data center portion of the development would be 48MW.
The company has since broken ground on the data center campus. The first two of six planned Cumulus data centers, one for hyperscale cloud and another for 'coin applications', are expected to be completed by the second half of 2022. The company has secured $175 million in funds from Orion Energy Partners to fund the development.
Blockchain firm Standard Power is also exploring nuclear-powered data centers. The company is powering its blockchain mining center in Coshocton, Ohio, with energy from an Energy Harbor nuclear power station, and recently announced plans to build another facility – potentially reaching up to 900MW – at Energy Harbor's Beaver Valley nuclear facility in Shippingport, Pennsylvania.