Talen has broken ground on a nuclear powered data center and secured funds from Orion Energy Partners to fund the development.
Talen Energy Corporation and its wholly-owned subsidiary Cumulus Growth Holdings LLC have secured a 6-year, up to $175 million strategic capital partnership with Orion Energy Partners.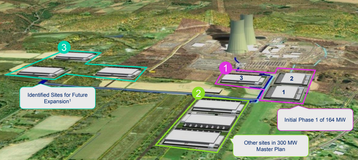 The investment secured through Cumulus subsidiary Cumulus Digital LLC will be used to fund infrastructure for the Cumulus hyperscale data center campus and Talen's previously-announced bitcoin mining joint venture with TeraWulf, known as Nautilus Cryptomine.
As previously reported by DCD, Talen is looking to build a 300MW+ nuclear-powered data center and cryptomining facility adjacent to its Susquehanna Steam Electric Station (SSES) in Luzerne County, Pennsylvania. Talen Energy formed Cumulus Data in 2020 to 'invest in opportunities created by the convergence of digital infrastructure and power' and has two separate businesses; Cumulus Data, focused on hyperscale; and Cumulus Coin, focused on digital currency mining.
In an ESG report from March, Talen said the company was "well-positioned to capture value" in areas such as data centers and digital coins, saying the two business areas could be a "stable source of income outside of the traditional market." In the report, Talen said the data center portion of the development would be 48MW.
The company has since broken ground on the data center campus. The first two of six planned Cumulus data centers, one for hyperscale cloud and another for 'coin applications', are expected to be completed by the second half of 2022
Up to $125 million of the Orion capital will be available following closing and an additional $50 million will be available once agreed milestones have been satisfied.Orion will also receive a non-voting equity interest in Cumulus Digital Holdings LLC.
"We are pleased to partner with Talen and Cumulus Growth on this exciting and differentiated ESG transformation," said Nazar Massouh, CEO and Co-Managing Partner of Orion. "We believe the Cumulus Growth strategy and infrastructure assets under development offer significant competitive advantages in accelerating the convergence between the clean power and digital infrastructure sectors."
At the same time, subsidiaries of Talen Energy Supply LLC have sold the equity interests of certain clean energy project development entities – data center, renewables, and battery storage assets – and certain undeveloped land to Cumulus Growth.
"We are grateful for the capital, partnership and confidence of Nazar Massouh and the entire Orion team," said Alex Hernandez, CEO of Cumulus Growth and President of Talen. "The Cumulus data center investment will create family-sustaining jobs, technology training, and other economic benefits including tax revenue and increased consumption of local goods and services to both Pennsylvania and the surrounding community."