Talen Energy subsidiary Cumulus Data has completed construction on the first building at its nuclear-powered Susquehanna data center campus in Pennsylvania.
The company this week announced the construction of the powered shell for its first 48MW, 300,000 square foot (28,870 sqm) data center is complete and the facility is available for lease.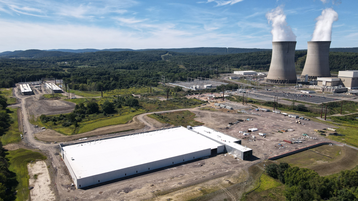 First announced by DCD in July 2021, the 1,200-acre campus draws power from Talen Energy's neighboring 2.5GW nuclear power station in Luzerne County, Pennsylvania, the Susquehanna Steam Electric Station (SSES).
Around six facilities – a combination of hyperscale and cryptomining facilities – are planned on the 475MW campus. After breaking ground in December 2021, the first two facilities – one hyperscale and one cryptomine – were originally set to be completed in mid-2022.
"Our flagship Cumulus Susquehanna data center campus is positioned to welcome its first tenant and commence commercial operations this year," said CEO Alejandro "Alex" Hernandez. "We look forward to advancing our mission to solve the energy 'trilemma' which we define as the rapidly increasing consumer demand for zero-carbon, low-cost, and reliable electricity by data center customers, beginning with our first Cumulus Susquehanna data center campus."
Cumulus has said the site also has the option to supplement the nuclear power with 400+ MW of solar energy.
Scott Hanna, Cumulus chief revenue officer, added, "There are currently few options that fulfill all three requirements at once - at a massive scale, while offering data center customers an industry-leading TCO. Talen and Cumulus will support our customers in achieving carbon neutrality by uniting together to adopt a common standard enabled by solutions such as the Cumulus carbon-free data center platform."
Commissioned in 1983 for energy company PPL, the 2,494MW Susquehanna Steam Electric Station is one of the largest nuclear power plants in the US. Its current owner, Talen Energy, was founded in 2015 after the competitive power generation business of PPL Corporation was spun off and combined with competitive generation businesses owned by private equity firm Riverstone Holdings.
Talen Energy formed Cumulus Growth in 2020 to 'invest in opportunities created by the convergence of digital infrastructure and power' and has two separate businesses; Cumulus Data, focused on hyperscale; and Cumulus Coin, focused on digital currency mining.
In an ESG report from March 2021, Talen said the company was "well-positioned to capture value" in areas such as data centers and digital coins, saying the two business areas could be a "stable source of income outside of the traditional market."
Cryptocurrency firm TeraWulf is working with Talen on the cryptomining side of the project.
Blockchain firm Standard Power is also exploring nuclear-powered data centers. The company is powering its blockchain mining center in Coshocton, Ohio, with energy from an Energy Harbor nuclear power station, and recently announced plans to build another facility – potentially reaching up to 900MW – at Energy Harbor's Beaver Valley nuclear facility in Shippingport, Pennsylvania.
In July 2022, Cryptomining firms TAAL and Lake Parime announced plans to deploy a 10MW cryptomine facility at an unnamed nuclear power station in Ohio.
Last year Microsoft also signed a power purchase agreement (PPA) with Ontario Power Generation in Canada to procure renewable energy, including from nuclear sources.