Industrial gas supplier Linde is working with STT GDC and Malaysia's YTL to explore the use of hydrogen energy in Singapore.
Linde, which has a multi-billion dollar hydrogen business, has signed an agreement with ST Telemedia Global Data Centres (STT GDC), YTL PowerSeraya, and YTL Data Center Holdings, to work on a hydrogen energy proof of concept to boost Singapore's sustainability efforts.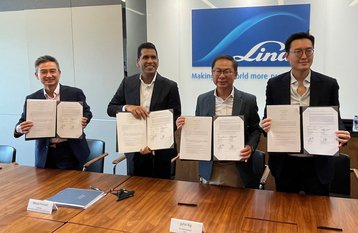 "Linde has a US$2.5 billion hydrogen business today with more than 150 major hydrogen production plants globally," said Qian Wen-Bin, Linde's Asia Pacific head of clean hydrogen and decarbonization. "Our long-standing expertise and reliable technologies for hydrogen production, processing, and supply will provide Singapore's power sector with a competitive and effective decarbonization pathway to create a more sustainable future for Singapore."
Singapore's goal to be a digital hub is in conflict with its lack of renewable energy. Data centers using more than seven percent of the nation's electrical power, which is almost entirely generated from fossil fuels. From 2019, Singapore had a moratorium on new data centers, which was formally lifted in January 2022, although only small amounts of new capacity will be allowed for now, according to reports.
Hydrogen has been floated as an energy storage method in Singapore before, but more often by STT GDC's rival Keppel. In 2020, Keppel and Mitsubishi proposed hydrogen power plants. Linde was part of a consortium set up to import hydrogen for Keppel in 2021, and later that year Keppel announced a proposal with Osaka Gas to ship hydrogen from Australia. Keppel has also previously also proposed a floating data center park.
For its part, STT GDC issued its first sustainability report in late 2021, revealing that in Singapore it has bought carbon credits to cover some 15 percent of its local energy use. Overall, the company has pledged to be carbon neutral by 2030.
"Sustainability has always been a priority for STT GDC, especially in recent years where climate concerns have been more prevalent," said Bruno Lopez, president and Group CEO, STT GDC. "However, to really make an impact with decarbonization, we need to tackle the issue at the source of the power ecosystem."
"As one of Singapore's largest power generation companies, we are at the center of the energy transition and are committed to exploring energy innovations and building the nation's capabilities in alternative energy sources," said John Ng, CEO of YTL PowerSeraya.
Under the YTL Group of Companies, YTL PowerSeraya aims to reach carbon neutrality by 2050 and a 60 percent reduction in greenhouse gas (GHG) emissions by 2030. YTL Data Center recently launched its first green data center park in Malaysia. Linde has also announced its goal to reduce GHG emissions by 35 percent by 2035.