Keppel Data Centres has joined a team studying the feasibility of a green hydrogen supply chain from Australia to Singapore - and potentially on to Japan.
Woodside Energy announced H2Perth, a green hydrogen plant in Western Australia in October. Now it is looking into creating a long term supply chain to export liquid hydrogen from the facility, and has started a feasibility study project with Keppel, City Energy, and Osaka Gas Singapore.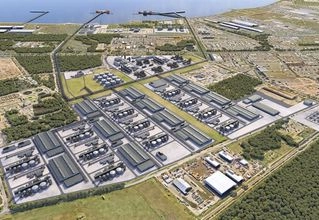 The parties will decide on further collaboration when the study reports in mid-2022.
Shipping H2
H2Perth, supported by the government of Western Australia, will be built on 130 hectares of vacant industrial in the Kwinana Strategic Industrial Area and Rockingham Industry Zone, in south metropolitan Perth. It aims to produce up to 1,500 tonnes per day of hydrogen to be exported as liquid hydrogen and ammonia, and also to provide low cost green hydrogen-based energy to local consumers, while boosting renewable power generation in the area.
Hydrogen does not emit carbon dioxide when it is burnt, and can be transported in liquid form as a high-density fuel. or shipped through town gas distribution networks. It is normally produced by electrolysis of water, and can be a green energy source, if the electricity used to produce it is from renewable sources. It can be liquefied by cooling it to below negative 253 degrees Celsius, and occupies less volume in liquid form, so it can be stored and transported more easily.
The study will Parties explore the technical and commercial aspects of an LH2 supply chain between Western Australia and Singapore, and potentially Japan.
The project could represent a useful source of energy for the renewables-starved city-state where new data center projects are currently on hold in a moratorium, because they already use seven percent of the country's electricity supply.
Singapore's Green Plan aims to achieve net zero emissions "as soon as viable," and wants to move towards meeting the UN's 2030 Sustainable Development Agenda and Paris Agreement. New data centers on the island would help grow its status as a regional hub, but could derail the Green Plan.
Renewable electricity is hard to come by in Singapore, where land is scarce for solar panels, and providers like Keppel will be very keen to bring on any new supply.
Keppel Data Centres CEO Wong Wai Meng, said: "This MOU (memorandum of understanding) will explore the feasibility of harnessing LH2 from Australia to power our data centers in Singapore, with potential applications for other Keppel business units in future. This collaboration in the upstream LH2 supply chain complements the existing MOUs we have entered with various partners to explore the mid-to-downstream segments, including transportation, storage, and regasification."
Keppel has already taken part in projects aiming to harness the cold energy of LNG gasification in Singapore, and has investigated floating data centers cooled by sea water.
"In line with Keppel's Vision 2030 and carbon emission reduction targets, we are committed to the decarbonization of data center operations through our research efforts in LNG and hydrogen for power generation, floating data centers, and technologies for carbon capture, utilization, and sequestration," said Wong.
Woodside CEO Meg O'Neill said: "It is important for us to work collaboratively with potential customers and end users such as Keppel Data Centres, Osaka Gas Singapore, City Energy and City-OG Gas Energy Services to collaboratively build out a sustainable hydrogen supply chain from our proposed H2Perth Project. H2Perth is ideally located in Western Australia for shipping to Singapore and Japan and the project site is close to existing gas, power, water, and port infrastructure, as well as a skilled local residential workforce."
City Energy, the national producer and retailer of town gas in Singapore, is hoping to introduce green hydrogen into its network. Its joint venture with Osaka Gas, City OG, is also involved in the project.