Stack is expanding its presence in Virginia's Prince William County with the acquisition of more land at one of its campuses.
The company this week announced the purchase of 74 additional acres in the center of Prince William County. The recently acquired land will add 100MW to the now 250MW campus.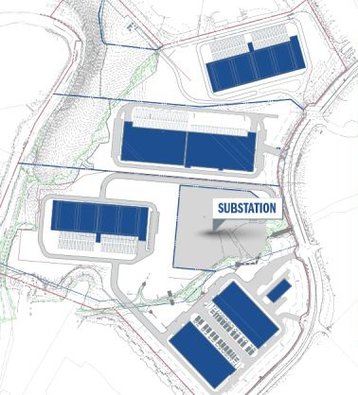 The 1.8 million square foot (167,225 sqm) campus -- reported by InsideNoVA as in Bristow along Hornbaker Road -- is now master planned for seven data centers, including its two newest additions each providing 48MW of capacity.
The site will also include a 300MW dedicated onsite substation, which will supply committed and scalable power from Northern Virginia Electric Cooperative (NOVEC).
"Utilizing the expertise of our site selection and development teams, Stack continues to deliver meaningful, strategic capacity in the world's top data center region to address the growing needs of our clients," said Ty Miller, Chief Commercial Officer of Stack Americas. "We're excited to further scale our footprint with powered land in this power-constrained market."
Last week Stack announced the groundbreaking of its NVAL3 hyperscale campus in the center of Prince William County. Delivery of the first 36MW building, known as NVA 13, is targeted for Q1 2024.
In early 2020 Stack announced plans for a 125-acre data center campus along Hornbaker Road in Prince William County, Virginia. The first phase spans 25 acres with 700,000 square feet (65,000 sqm) of data center space and 72MW of critical capacity. At full build-out, the build-to-suit campus could reach 250MW of critical load and 4 million sq ft (371,600 sqm) of data center space. It acquired an additional 25 acres in May 2021 and announced phase two expansion of the site in October 2021, aiming to bring an additional 36MW of capacity online starting in Q4 2022. It bought an additional 60 acres for the campus in September 2022.
The company is also developing a 216MW campus in Ashburn, in neighboring Loudoun County. The 80-acre campus will support three buildings totaling almost 1 million sq ft (92,900 sqm).
Stack acquired two plots of land in Manassas from AWS in December 2021 located at 10675 University Blvd. and 9650 Innovation Drive. In April 2022 it subsequently announced plans for a 34-acre, 84MW data center campus but never confirmed if it was at the recently-acquired site; at the time Stack said the project will comprise a minimum of two buildings spanning 602,000 sq ft (56,000 sqm). The first phase was to be delivered in Q3 of 2023.