Stack Infrastructure has announced a new 216MW data center campus in Ashburn, Virginia.
The company announced this week a new 80-acre campus that will support three buildings totaling almost 1 million sq ft.
The first phase for the Ashburn campus is due to come online in Q3 of 2023. Stack said the new facilities will be powered by 100 percent renewable energy provided by Dominion.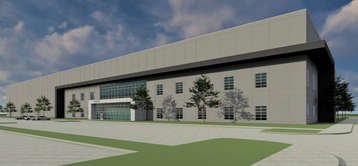 "Stack's forward development in the most challenging markets is our differentiator. Our clients seek speed, scale, quality, and partnership. This new flagship campus exemplifies that," said Brian Cox, Stack CEO. "I am proud that our development team was able to deploy its expertise while building strong relationships to deliver the on-demand capacity, in key locations, that top technology innovators need."
According to DgtlInfra, the NVAL2 data center development project is located at 22285 Lockridge Road in Sterling, on the border of Ashburn. The land was (or possibly still is) owned by SDC Ashburn I LLC, itself owned by SDC Capital Partners; The land is also connected to SDC's Sentinel Data Centers. Whether Stack and/or its owners IPI Partners have bought the land or are leasing the site on a long-term basis is unclear.
The news comes after Stack broke ground on a new facility on its other Northern Virginia campus in Manassas, Prince William County, in October. The development is the second phase of expansion and will bring an additional 36MW of critical capacity that will eventually reach 72MW and come online starting in Q4 2022.
"Stack's development team continues to leverage its relationships with utilities, local authorities, and developer partners to establish a strong, scalable presence in critical markets like Northern Virginia, despite land and power scarcity," added Tim Hughes, Vice President of Strategy and Development at Stack. "Dedication to our clients has driven Stack to secure campus-scale sites and electrical interconnections to allow hyperscalers and enterprises continuous expansion in key markets."
2021 saw Stack open a data center in San Jose, California, and announce plans for the facility in Toronto, Canada. It has also opened an office in Singapore in order to expand into the Asia Pacific market. The company raised $400 million via securitized notes and is also planning a 24MW facility in Portland, Oregon.
More in Construction & Site Selection