Stack Infrastructure has broken ground on a new facility on its Northern Virginia campus in Manassas, Prince William County.
The company said the development is the second phase of expansion and will bring an additional 36MW of critical capacity that will eventually reach 72MW and come online starting in Q4 2022.
Stack has plans for an on-site, dedicated substation that will eventually support a full campus of more than 250MW over 125 acres. The company is developing the campus in partnership with the Peterson Companies.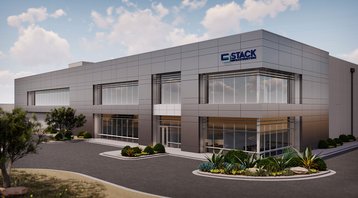 "Introducing 36MW of new capacity in a prime location with a plan to bring additional scale adjacently is one of many examples of Stack's ongoing strategy to provide on-demand capacity to its clients," says Stack chief executive officer, Brian Cox. "With this and many other campus projects in development, Stack is providing the furnace to enable the top technology pioneers to forge the world's next big innovations."
In May, Stack acquired additional 25 acres adjacent to its campus. The company recently said it inaugurated a 227,000 sq ft (21,000 sqm) data center on the campus in August.
In the same announcement, the company also said it was planning to commission a 24MW facility in Portland, Oregon later this year.
2021 has seen Stack open a data center in San Jose, California, and announce plans for the facility in Toronto, Canada. It has also opened an office in Singapore in order to expand into the Asia Pacific market. Earlier this year the company raised $400 million via securitized notes.
More in Construction & Site Selection