Stack Infrastructure has announced its first international expansion into Canada, and plans for a 56MW data center campus in Toronto, Ontario.
The development sits on 19-acres on 3650 Danforth Avenue, located 10km (six miles) from downtown Toronto, and will be fed by three diverse substations served by Toronto Hydro. The first phase of the campus will be operational in mid-2022.
The site, in the suburb of Scarborough, was previously home to the Canadian manufacturing operations of US pharmaceutical firm Eli Lilly. The company closed the facility in 2019 after 70 years and relocated its offices in downtown Toronto.
"Toronto, with its incredible economic growth, access to power, and connectivity, is one of North America's most exciting data center expansion opportunities," said Brian Cox, Stack CEO. "Our company continues to develop where our hyperscale and enterprise clients need to be, and we couldn't be more excited to partner with First Gulf and expand internationally to meet those needs. This represents the next chapter in the fast-moving and ever-expanding story of Stack growth."
For more breaking data center news, features, and opinions, be sure to subscribe to DCD's newsletter
Stack goes international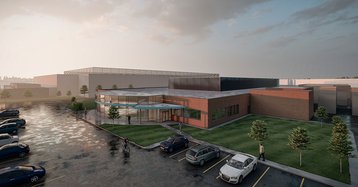 The announcement marks the company's first international expansion, and includes a partnership with Canadian developer First Gulf. Clients will be able to choose among ready capacity, powered shell, and build-to-suit customized opportunities.
"Development is where our team thrives, and First Gulf knows the Toronto market as well as anyone," added Ilias Konstantopoulos, CEO of the Great Gulf Group, First Gulf's parent company. "There is incredible potential here for long-term growth of digital communications infrastructure, and we're proud to join forces with Stack to facilitate that growth."
"We are delighted to welcome Stack and its partners to Toronto. It is great news that they, along with First Gulf, are further investing in the region's digital infrastructure to power the City and its business community," said John Tory, Mayor of Toronto. "As an industrial and financial hub of Canada, increased technology access, development, and jobs are critical to Toronto's growth, which is why we hope this is just the beginning of a long, successful partnership."
Stack's latest round of funding saw the company raise another $400 million via a securitized note offering, which will be used to fund several client-focused initiatives, including the construction of its 'Basis of Design' standard data center.