Satellite telco SES announced it is building eight satellite ground stations, with four colocated at Microsoft data centers.
The Luxembourg-based company announced it had become a medium Earth orbit (MEO) connectivity partner for Microsoft Azure Orbital last year and said at the time Microsoft's Phoenix, Arizona, and Quincy, Washington campuses would host ground stations, but hasn't yet said where the other two will be hosted.
Construction on the ground stations has already begun and are due to enter operations in the second half of this year. The eight sites will provide telemetry, tracking, and control capabilities to manage the new O3b mPOWER broadband satellite constellation.
Microsoft revealed its first ground station at its Quincy, Washington facility earlier this month.
For more breaking data center news, features, and opinions, be sure to subscribe to DCD's newsletter
Ground station colocation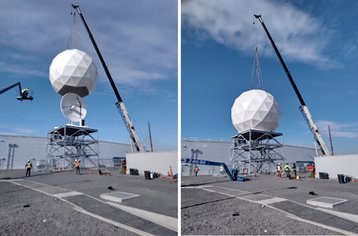 SES says the new ground stations use 5.5-meter carbon fiber antennas which can be installed without the need for photogrammetry, and will utilize energy-efficient solid-state power amplifiers, and a low electrical load for the antenna control unit (ACU).
Two ground stations are located at Dubbo, NSW, Australia (operated by Pivotel) and Thermopylae, Greece (operated by OTE). Other locations include Perth, Australia; Phoenix, Arizona; Chile; the United Arab Emirates; Senegal; and SES's own satellite ground station in Hawaii.
"We are thrilled to have chosen these eight locations and construction is underway," Stewart Sanders, EVP of Technology and O3b mPOWER program manager at SES.
"We are also deep in discussions with several telco players and operators who are keen to have their own O3b mPOWER satellite ground station. This is particularly exciting, as it means that SES's provision of a core network of command, control and data gateways will be augmented with a number of customer satellite ground stations; satellite ground stations provisioned according to our customer needs, with regards to location, size and infrastructure requirements. We expect a number of these customer satellite ground stations to include virtualized installations of the cloud at the edge of the deployed networks, thus improving the end-user experience."
The first three O3b mPOWER satellites are scheduled for launch in Q3 2021, with three more due in Q1 2022, with service delivery expected to begin in Q3 of 2022.
"Some of the gateways are colocated with Microsoft data centers to give direct access to major points of presence," Sanders told Capacity. "That will give an almost cloud-like experience. The Microsoft relationship is the most important one, but it's not exclusive."