Quintillion's new Arctic ground station in Alaska will be directly connected via fiber to Equinix SE2 International Business Exchange data center in Seattle.
Completed in February, the Quintillion-ATLAS ground station is the highest-latitude satellite ground station on US soil. Located at 72 degrees latitude in Utqiagvik, Alaska, on the northern coast of the Arctic Ocean, the 3.7-meter antenna supports S- and X-band transmission and expects to see as many as 12 satellite passes daily.
Register now for our upcoming virtual conference on data center energy integration: DCD>Grid Scale
Ground station gets connected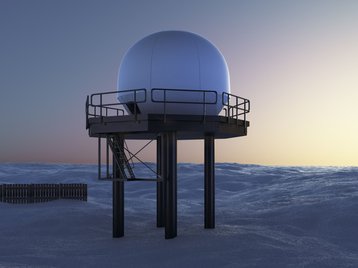 "Space communications is an important component in many enterprises' overall digital strategies. As the world's digital infrastructure company, Equinix is meeting these critical needs by advancing our next-generation platform strategy to include satellite access and assist our customers' IT transformation efforts," says Jim Poole, Equinix's VP of business development.
"Satellite customers can dynamically scale their digital infrastructure needs by accessing the ecosystem of service providers at Equinix, without needing to worry about building all of the infrastructure themselves," he added.
The ground station connects to Equinix Fabric, and from there customers can connect to their own infrastructure and services.
"Polar orbiting satellite operators now have a choice to deliver their data at high latitude, on US soil and directly connected to Equinix data centers in Seattle," says Michael McHale, chief revenue officer at Quintillion. "This partnership will simplify the downlinking and processing of time-sensitive data for polar orbiting satellite operators."
Quintillion provides broadband services to ISPs in Alaska via a submarine and terrestrial fiber optic cable network in the US Arctic. The company plans to connect Japan to the Olympic Peninsula in Washington state, and Alaska to Europe via the Northwest Passage in northern Canada.