IonQ is reportedly in advanced talks to merge with a blank-check company, creating one of the first public quantum-computing firms.
Bloomberg reports that the quantum startup and special purpose acquisition company dMY Technology Group Inc. III are close to announcing a deal worth an estimated $2 billion. Existing IonQ investors are expected to roll their equity into the transaction.
Silver Lake, MSD Partners, Bill Gates' Breakthrough Energy, and an affiliate of Hyundai Motor are all reportedly involved in talks.
FEATURE: The extreme cooling requirements of Quantum computers
IonQ outside dMY's consumer comfort zone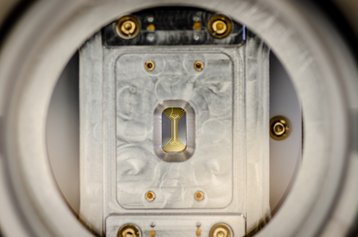 SPACs are 'blank check' shell companies that list on a stock exchange and then acquire or merge with an operating private company. This route to the stock market is often quicker and involves fewer steps than a traditional IPO.
Until recently, Vertiv's 2019 IPO was the only major data center-related deal in the SPAC space. However there has been more movement in 2021; this month Cyxtera announced a $3.4 billion merger with the Starboard Value Acquisition Corp SPAC, CyrusOne's former CEO and CTO Gary Wojtaszek and Kevin Timmons have joined a new SPAC that will be focused on digital infrastructure, and former Telecity CEO Michael Tobin is also seeking to form a technology-focused SPAC in Amsterdam.
dMY's leadership team include Harry L. You as chairman and Niccolo de Masi as CEO. You, previously EVP at EMC and a board member for Broadcom, already has experience in the SPAC space. He founded GTY Technology Holdings in 2016, which was focused on gov tech firms - acquiring six of them in 2019. Meanwhile, de Masi previously led Glu Mobile, consumer IoT company Resideo, and Andy Rubin's ill-fated Essential.
dMY III raised $300 million in November when it went public and said at the time it would pursue a target in consumer technology. The parent firm's first SPAC merged with mobile betting firm Rush Street Interactive, while the second and fourth SPACs in its portfolio are seeking acquisition targets in the 'consumer technology ecosystem.'
Maryland-based IonQ was founded in 2015 and claims to run the world's most powerful quantum computer. Its investors include Amazon Web Services, Samsung Catalyst Fund, GV (formerly known as Google Ventures), NEA, Lockheed Martin Corp., Airbus Ventures and Robert Bosch Venture Capital GmbH. The company opened a 23,000 square foot (2,100 sq m) dedicated quantum computing data center in 2020, and plans to have rack-mounted quantum computers by 2023.