Investment firm Quanta Capital has acquired an 82-acre data center site on the Dublin/Wicklow border, Ireland for an undisclosed sum.
"We are delighted with this purchase and believe it presents an amazing opportunity for development," Quanta CEO MelSutcliffe told the Irish Business Post.
The land at Kilpedder has planning permission for a 700,000 square foot data center on 40 of its 82 acres.
Click here to download the latest issue of DCD's magazine
Quanta buys land promised for Ecologic's 'largest data center in the world'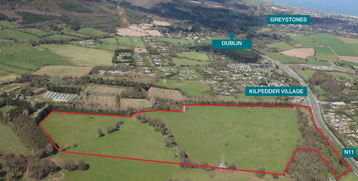 Though unconfirmed, it seems the plot is the site previously due to house Ecologic Data Centers facilities. If it is the same plot, the site has had a storied history over the last 10 years.
Around 2010, Ecologic promised to construct a 100MW data center campus in Newtownmountkennedy.
The company said the campus would be 'the world's largest data center,' powered by renewable energy, be carbon negative, and would have provided free heating to Biodome projects as well as local housing and businesses through a district heating scheme. Each of the 10 data center buildings would have been named after a famous author, including Oscar Wilde, James Joyce, and Bram Stoker.
Ecologic CEO Brian McDonagh is known for opposing Apple's abandoned Irish data center in court. Echelon Data Centres also faced legal challenges from McDonagh over its project close by in the county.
Despite overcoming planning permission wrangles, no data center was ever built on the Kilpedder site and Ecologic's owners were sued by Ulster Bank in 2018 for failing to pay back a loan meant to build the campus.
The land was previously put up for sale in 2019, boasting 81 acres and planning permission for 6 two-story data centers, each measuring approx. 10,915 sq m (117,488 sq ft). The duration of the planning permission was reportedly granted for a period of 10 years with an expiry date of February 2024.
DCD has reached out to Quanta for confirmation the two sites are one and the same.