Apple has been given the all clear to build a €850m ($1bn) data center campus by Ireland's Commercial Court in the culmination. 
The company's plans to build eight data centers totaling 263,000 gross sq ft (24,000 sq m) on a 500 acre forest site in Derrydonnell, Athenry, were called into question after planning permission from An Bord Pleanála was challenged on two separate accounts. 
A hard fought victory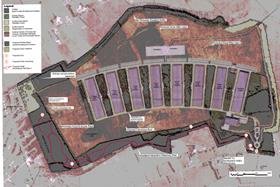 The first claim was made by property lawyer Sinead Fitzpatrick and Allan Daly, whose home is close to the proposed center, claimed the Board's August 2016 permission for the development was invalid on grounds including alleged failure to carry out a proper Environmental Impact Assessment.
Before their challenge was put forward, questions had already been raised about the environmental impact of the proposed data center, namely that protected species of bats and badgers would be put at risk in the development.
The second appeal came from Brian McDonagh, who cited multiple grounds against building the facility, stating that although he had nothing against Apple building a data center, he wanted to ensure compliance with what he called "proper planning procedures."
According to Ireland's national public service broadcaster RTÉ, Mr Justice Paul McDermott refused both applications, first stating that the Environmental Impact Assessment carried out by the planning comity had been satisfactory.
In rebuke to the second appeal, he said that McDonagh did not have standing to bring proceedings to the court, firstly because he does not live within proximity of the planned facility, and secondly because he failed to participate in the planning process.
Finally, McDermott said that McDonagh had failed to elucidate the grounds for his appeal to a satisfactory level, as he had been trying to build a data center in Wicklow, a town neighboring Dublin on the East coast of Ireland.
Apple reportedly declined to comment, and Allan Daly stated he wished to reflect on the outcome of the case before making a statement.
Support group Athenry for Apple representative Paul Keane expressed relief that the court had ruled in favor of Apple, but also fear that the decision could be appealed. The campaign group successfully rallied local public support for the project, and last Sunday several hundred marched the streets of the County Galway town in a final act of loyalty before the ruling. 
Keane reportedly stated that even if Apple's project did go forward, now was the time to alter the country's planning laws, so as to avoid losing business from other companies fearing the same fate as Apple. 
Local TDs and a spokesperson for Irish business representative were said to have echoed the statement, saying that the Irish planning system is flawed and could have an impact on other major companies wanting to establish a presence in the country.
The data center complex will employ 300 people during the construction phase and 100 permanent positions once it is fully built out. When Apple first received planning permission, it stated that there was enough space on the property to build another seven data centers, but it is unclear whether this is still on the cards, as these would require separate planning permission.